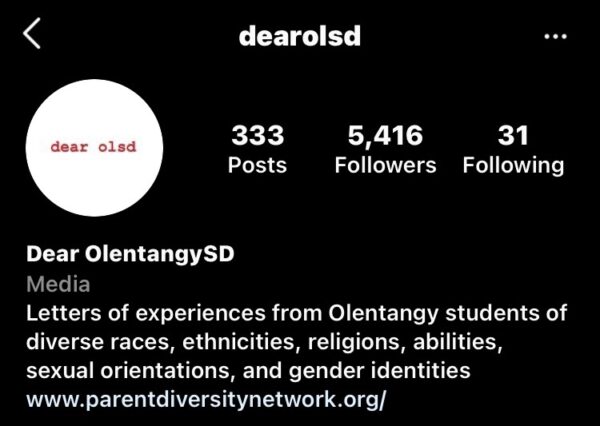 pictured: Instagram account @dearolsd
Racism, as well as bias against certain groups, can take many different forms, some seen in the own Olentangy community. Not only are there steps being taken by the district, but students have also taken initiative starting clubs and student organizations to inform and combat prejudice in the community.
Sophomore Josh Layne has seen instances of racism and homophobia in classrooms often throughout his school career.
"My experience in the district is one of both prejudice and acceptance," Layne said, "I have had several cases when I was a younger student-athlete where my identity was seen as a joke, something to be made fun of and weaponized against me or my friends."
Senior Francis Christian, who is a member of LIFE Movement, the high school's Black Empowerment Club, also said that he sees racism not only in the district, but also everywhere he looks.
"I definitely think there's still challenges and problems not only in the school and the district, not only here but in the world. Wherever you go you're going to find that kind of stuff. It's good that we at least acknowledge it so that we can get to a solution," Christian said.
Layne continued and said that students who perform microaggressions should know that their words are impactful, and this is where the district has fallen short in protecting diverse students from these actions.
"That's where our district is at fault. They unintentionally created or maintained an environment that festered microaggressions, prejudice and hate. As a queer student, I have been trying my best to change that," Layne said.
That sentiment was shared by an Instagram account that was created this summer, titled DearOLSD. The account took anonymous submissions of instances of racism that students across the district had faced, and gained over 6,000 followers along the way. The stories had a large impact on the community, and caused the district to hire an additional diversity coordinator, whose job is to ensure that Olentangy Schools offer equal opportunities to all students, regardless of race. Mikela Thomas, one of the district diversity coordinators, explained her job responsibilities and their goals for the future.
"As the District Diversity Coordinator, I support Equity and Inclusion efforts in the district. Some of the work I do is to develop and implement professional development for certified/classified staff members and assist in creating a three to five year equity and inclusion action plan," Thomas said.
The district has acknowledged that these goals cannot be met without student engagement, and Heather Cole, Olentangy's other diversity coordinator, stated that they're working with student organizations to create a more inclusive climate for LGTBQ students and students of color.
"We have been working with two student groups that were formed over the summer as a result of DearOLSD – Student Association for Diversity, Inclusion, and Education (SADIE) as well as OLSD4Equality. Additionally, at the beginning of the year, a high school student collaborated with an E&I team member to create a workshop session on how to support our LGTBQ students," Cole said.
Layne, who is a member of SADIE's leadership team, discussed its role in the district's inclusion efforts.
"We want systemic change so we can acknowledge the trauma that Black, Indigenous, Students of Color and LGBTQ+ students have faced and start building a school system where the next generation of students don't have to go through what we have. It starts with educating those students who don't belong to these groups and giving those who do an infrastructure of resources for support," Layne said.
Christian also explained how LIFE Movement reached teachers earlier this year to bring up issues of racism in the classroom.
"We got the opportunity to record some of our members' instances where they experienced firsthand racism and discrimination. We were able to show this at a professional development day to all the teachers so they could hear it from students of color and how they actually feel," Christian said.
These efforts by the diversity coordinators and student organizations have moved the district in the right direction in providing a safe space of equality for all students, but Layne recognizes there is much more to be done.
"Actions speak louder than documents and councils. And I have seen actions in staff training days and signs in the hallway that foster a safer environment," Layne said, "But I think real work begins when the plan is approved. I think the real work begins when teachers don't feel worried that by protecting a student and their identity that it may be viewed as political."