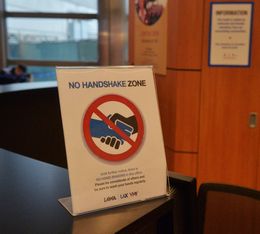 permission to print image: Gale
COVID-19 has taken over the United States in the past year, and as a result, travel guidelines and regulations have been put in place. Especially for the holidays, health officials are advising against traveling to see family.
When traveling out of Ohio to a different state, the Ohio Department of Health wants people to quarantine when they return home. However, this is not the case when traveling to every state.
"In regards to returning home to Ohio, the Ohio Department of Health advises that you self-quarantine for 14-days upon arrival back home from states with a 15 percent or higher positivity rate," Calyco travel agent Caryn Coomer said.
Throughout the United States, states like Idaho, Michigan, Oklahoma and others have a positivity rate higher than 15 percent. These rates change every day, and states like Wyoming switch weekly.
"South Dakota has the highest rate with 56 percent and next up is Iowa with a rate of 50 percent as of Nov. 23," according to the Ohio Department of Health.
Even though traveling to states with high rates is not "advised", it still could be safe to travel depending on where people go. But before traveling, educating oneself on the restrictions and guidelines in other states is very important.
"The first way to help us navigate travel during this time is to educate ourselves on the restrictions and health protocols in the destinations we're interested in," Coomer said. "Everything from asking if COVID tests are required to asking if we can eat at a local restaurant should be considered."
While traveling is at a low rate right now, the economy is hurting in the travel industry. States and countries want to keep people safe, while also stabilizing their economy on a travel basis.
"Tourism in the fall is a huge part of their economy. They want to let tourists in to keep their economy going but need to do so as safely as they can. For that reason alone, it is important that they implement strict travel restrictions and protect their residents," Coomer said.
When traveling, people can still do it safely. Every state has different protocols and following those is the first step to staying safe.
"My family and I stayed in an Airbnb lake house for Thanksgiving in Tennessee. The COVID-19 protocols were practically the same as Ohio. We had to wear masks at all times in public," sophomore Kate Beckley said.
As the number of cases is increasing daily in the US to as many as 205,000 in one day, the risk of getting COVID-19 is higher than ever. The ultimate decision of whether or not to travel is all based on each person's health.
The main question posed by the CDC to the people is, "Are you or those you are traveling with more likely to get very sick from coronavirus?" So, on the basis of traveling, it is up to the people and how they think the disease could affect them.
Overall, people can travel safely and not get COVID-19, but people can also travel safely and get COVID-19 and that's why traveling is such a debated topic surrounding the pandemic
"Even though I love to travel, it really is not safe for everyone to do. Traveling could and unfortunately is spreading COVID-19," Beckley said.