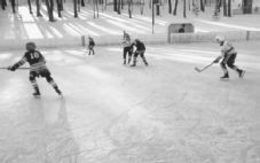 permission to print image: Gale
Fall sports have come to an end for the year as winter sports are just around the corner. In the fall, the games and events only had tickets made available to parents and family of the players.
These adjustments made it difficult for students to support one another, as some of these players were playing their final seasons as a student athlete.
"In practice, coaches had masks on in and out of the locker room, and we were no longer able to share water bottles," senior hockey player Ethan Muth said.
Fans were required to wear facial coverings and maintain a six feet distance between others when possible. With most fall sports being played outside, this made fans feel more at ease in following the regulations.
With winter sports being played indoors, they will keep the attendance down to 15 percent capacity, which is roughly about 300 spectators. The teams will be following the guidelines and regulations provided by the state and country.
"I don't think the decrease in fans will be a big issue because most of the time we can't hear our coaches in the corner of the mats, let alone anyone else. We will still be able to have our family there to support us and teammates providing us enough support to keep going," senior wrestler Taryn Martin said.
Wrestling began its preparations for the season in June with open mats and liftings each week. The team has conditionings three times a week and two days of open mats.
Teams were preparing for their seasons as tryouts were just around the corner. Martin is preparing for the season in hopes for another opportunity to perform in states.
"Most of the wrestlers went to local clubs as soon as practice was over and practiced to better ready ourselves for the season," Martin said.
The team is making sure to keep on top of cleaning the mats and wearing masks throughout the building.
The hockey team prepared for the season in the weight room and holding practices at the Chiller North twice a week.
"We had a summer hockey team where we practiced twice a week and held games on the weekends. We played about nine games," Muth said.
The team treated it like any other season, keeping the high intensity on the ice and in the weight room. With a decrease in varsity players, the main goal the team had was making sure every player was in the best shape possible.
"I don't think that a decrease in fans will affect our level of performance because we were so focused on the game. However, the fans help play a role in motivating us during the game when we score or make a big play," Muth said.