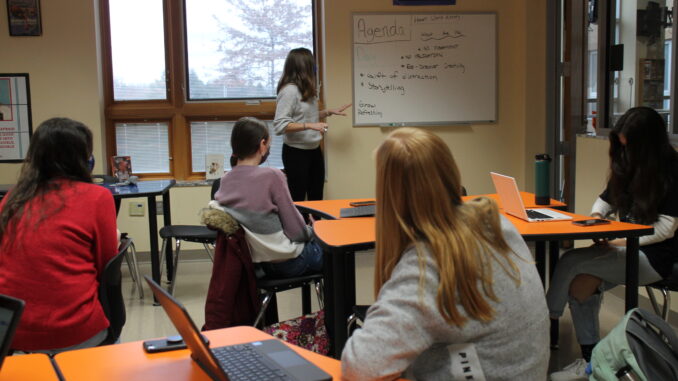 photo credit: Valeria Favila Inacua
While several clubs have already begun meeting since the beginning of the year, the literary club known as "The BEAT" fills the school with the noises of voices, computer keys and the screech of whiteboard markers as they a way of greeting new members.
The BEAT met Dec. 14 after school with its current board of members to discuss how to bring in other students and provide a safe space for others to be creative and practice their writing skills.
"At the meeting, each of us shared why we joined The BEAT in order to establish our purpose and who we are as a club; we also discussed main ideas for our presentation at the first official member meeting," junior and co-advisor Ryann Allender said.
Each member wrote their own story for how the club has benefited them with personal narratives and descriptions. These were then shared with the groups so that an overall message could be created.
Club advisor Rachel Hecker says that establishing a message through other people's pieces of writing is going to be the most effective way of bringing in new members, this makes it feel relatable and doesn't scare people away from writing.
The BEAT has just recently started for new members due to the fact that it is very different from last year; there are new goals, members and it is completely renewed.
"Our advisor changed this year, so we still had some foundation to build from but basically started over from scratch," Allender said. "I would say last year was more centered on sharing what you wrote or read, whereas this year there are a lot more positions and roles that members can have in the club so there is something for everyone."
This meeting was more technical than they usually are; usually meetings include a great share of literature. This doesn't take away from all the opportunities The BEAT has provided to its members.
"Being involved in The BEAT is like being a part of a team where we all support each other and each other's ideas. Right now, we're discussing things about how we want our future meetings to run but normally we will just write," junior and club member Macie Smith said.
The BEAT gives many great opportunities to improve literature skills, writing skills and is a fun place for students to relax and express themselves in a unique way. This meeting allowed members to decide how others can join without feeling stressed.
"Others should join The BEAT so that they can have a place to escape stress and unlock their creative side without any fear of judgement or pressure to perform," Allender said. "So much personal growth happens when you write and it's exciting to see yourself and others grow."