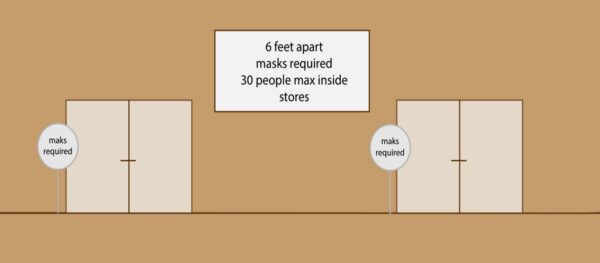 illustration: Carissa Long
The retail industry took a big blow this year due to COVID-19 and the other catastrophic happenings of 2020 in general. From slow-moving sales to shipping delays and even coping with the issue of worker-safety concerns hurting them on both ends- meaning fewer staff working to prepare goods for consumers who are going through financial uncertainties at the time.
However, pandemic, or no pandemic, consumers love sales as much as marketers love to sell out of their products. So, with the biggest annual shopping event just around the corner, where does COVID-19 leave Black Friday 2020 anyway?
American Eagle stylist Gabby McAninch believes that one of the biggest changes this year will be fewer in-person customers and she feels good about it. "It will make the employees a little less stressed and the guests shopping feel more comfortable because there's not going to be another person right next to them," she said.
According to CNN Health's tracker, with over ten million cases across the country, the essence of practicing social distancing and ensuring sanitary conditions is evidently crucial. For this reason, many retail departments across America are working hard in making sure that enough safety measures are taken especially during the big day.
According to McAninch, 'limiting the capacity of people who are allowed in the store," as well as "cleaning up after customers and wiping down surfaces," are some of the ways they plan to
keep everyone safe.
At one Polaris consignment store, called The Window Guy and Co, a huge part of its Black Friday planning also involves stocking up on a lot of items. With over 70 vendors, all local to Ohio, it is important for the store to be well stocked and ready to go on Black Friday.
2017 graduate Samantha Welsh, who does everything from helping customers, working the cash register and even tidying up the store, said that "preparation for Black Friday for [them] involves making sure all of the vendors have enough stock of items."
However, regardless of how tirelessly these retail staff plan for the day, Black Friday is still a multi-person job. Customers have to show up for the event to be a success, which with Ohio cases skyrocketing by the day, it's not easy to make a solid prediction of how everything will turn out.
"It's hard to say whether or not we think a lot of people are going to come out," Welsh said. She believes that some people will go out and "shop regardless of the crowd [while some will simply] just shop online on Cyber Monday to avoid the crowd." Senior Sarai
Wainwright, who is mainly looking at online deals right now, is planning to do 80 percent of her shopping online and 20 percent in store. She anticipates that this year's Black Friday is going to look at least a bit different from the previous years.
"If the event is the same as it is every year, the cases will definitely spike," Wainwright said.
Due to COVID-19, a cloud of uncertainty lies above this year's Black Friday event. But from the look of things, customers and retail staff seem to have a relatable goal of safety for all on Friday, Nov. 27.