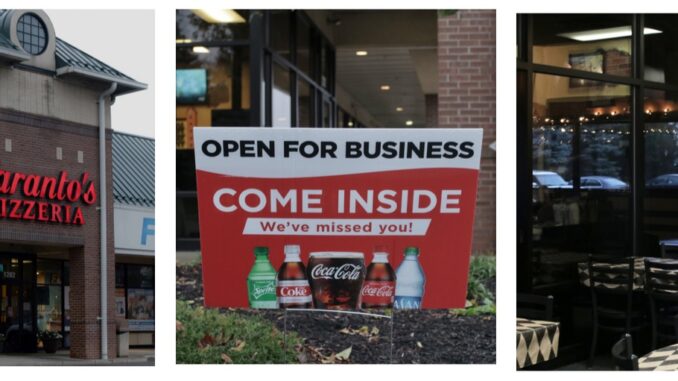 design and photos: Nick Allen
In early March, Ohio began seeing a rapid increase in coronavirus cases, which resulted in the decision to implement a stay-at-home order. Not only that, but many businesses that were not considered essential were forced to close down for a certain amount of time. Now that those orders have been dissolved, many local businesses have been adjusting to the pandemic and have been trying to survive.
There are many different types of businesses in our local area, ranging from restaurants to amusement centers. Because of this, the coronavirus has not impacted all local businesses the same. In fact, Taranto's Pizzeria actually noticed some positive effects in the first few months following Ohio's lockdown.
"It actually made a positive impact for the first couple of months to the point where it was difficult to keep up with the sales and keep enough product in the store. The community was awesome in supporting us as well as the staff that worked the front who were no longer making tips while serving," owner Debbie Taranto said.
However, after the first few months, the consequences of the pandemic became more noticeable to the local pizza place. They ran into production issues and found themselves having to pay higher costs for various products, as well as having to pay their employees more because they were no longer making tips. In addition to that, they also began to have more competition.
"Major restaurants that only offer dine in, now offer carry out. We have seen a steady decline in sales since May as a result. And with sports and school being hybrid, as well as companies continuing to work from home, we have definitely taken a hit where this normally would be the start of our peak season," Taranto said.
Lazer Kraze is another local business that has had to deal with COVID-19. From hosting birthday parties, to going on field trips, the amusement center has been a staple of many childhoods around Ohio. The coronavirus has affected them greatly, as their business heavily relies on people getting together to have fun.
"Our Lewis Center location closed permanently in July as the lease costs were too substantial to make it make sense to keep trying to stay open after about a month after we re-opened in June," founder and president Robin Wilcox said.
Despite having to close their Lewis Center location, the Lazer Kraze in North Columbus is still open. However, now that the United Kingdom has been seeing a second wave of coronavirus cases, which has caused many countries to place new restrictions in an attempt to contain them, the possibility of this happening in the United States is worrisome for small businesses.
"SBA (Small Business Administration) picked up loan payments for the Columbus location so we've been fine thus far but that is ending. Without sales coming in or more government assistance, we could be forced to declare bankruptcy at some time," Wilcox said.
Nevertheless, businesses have been doing as much as they can, especially by adjusting in order to meet state requirements and guidelines regarding the coronavirus. Business regulations such as keeping customers six feet apart, requiring masks for all staff and customers, frequent sanitization of products and constant handwashing have been thoroughly followed in hopes of stopping the spread of the virus as soon as possible.
"We're hoping with the steps we're taking to be safe, guests' continued efforts to stay safe here and everywhere, things will improve enough to sustain until a vaccine is released so no one has to worry about getting sick anymore," Wilcox said.