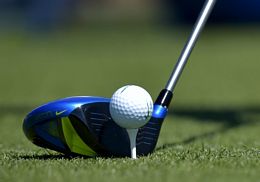 permission to print image: Gale
This past weekend, the boys golf team traveled to the Ohio State University Golf Club for the OHSAA State Tournament. The boys arrived at the Scarlet course coming off of a district championship win two weeks ago.
Seniors Corbin Bently, Jonathan Green, and Nathan Brown, along with Juniors Luke Johnson and Mitch Perdue played the 36-hole championship and faced a tough Ohio State course.
Bently began the weekend shooting a 79 on Friday, but had a team low 73 on Saturday, finishing the second round only one over par. He finished the tournament tied for 10th overall individually.
Johnson finished close behind Bently, tying for 14th out of the competition, and shooting a 74 and 79 on each day. Jonathan Green was next on the team shooting a 77 and 83 respectively, and Nathan Brown followed him with an 82 both days.
Overall, the team finished in 6th place out of the state, scoring a 312 in the first round, and a 317 in the second, combining for a weekend score of 629. Archbishop Hoban took first place for the season, ending with an impressive 606, and Dublin Jerome, the other state qualifier from Orange's division, finished in fourth with a 618.
As OCC Co-champions, District Champions, and taking sixth place in the state, it was a great season for the golf team.