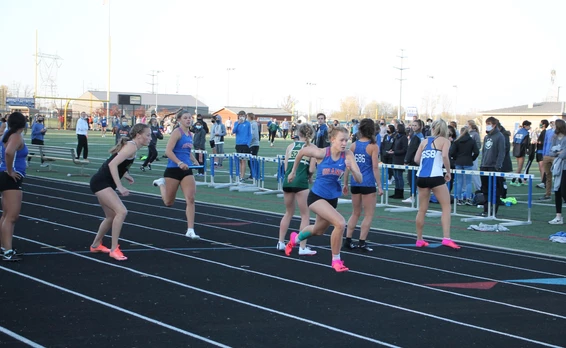 photo credit: Kendall Cadegan
Each spring, the school's track team works hard to set records, build skills and have fun. However, this season was slightly different.
The team had many new regulations brought on by the pandemic; they had to adapt to the new policies and still try to complete the season to the best of their abilities.
"All the athletes were distanced by event, so sprinters, distance, jumps and throws were all separated. Everyone had to wear masks when they weren't actively moving or breathing hard," junior Quinn Shannon said.
Even though the team had to change some of their routines and policies, they still worked hard to strive for improvement. There were many aspects of the season that the athletes cherished, and that wouldn't have been the same without this special season.
"I loved being able to see everyone work so hard after not having a season last year," junior Regan Yamasaki said.
After taking the 2020 season off, coming back this year meant a lot more to the team. Everyone valued being able to get back outside and practice what they love to do.
"It was really nice to see everyone's hard work pay off and celebrate the successes," Shannon said.
Both girls have been part of the track team throughout high school and will continue to be part of the team during their senior year.
"I hope that I will be able to not be as stressed out during the meets, and hopefully the girls team will look strong and we will be able to place at the higher meets," Yamasaki said.
The season had its highs and lows, but overall, student athletes were able to spend quality time with each other while doing what they enjoy.