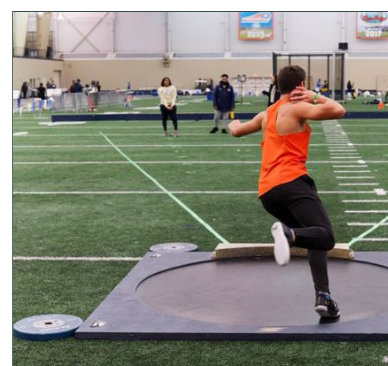 writing: Ava Valentik
design: Mackenna Miller
photo: Teresa Christian
"Runners, make your way to the start line," announces the official. The pressure starts to seep in as the countdown begins. The official raises his arms and shoots the gun. As the gun's blow echoes through the track facility, all that is heard are the sounds of the runners' pounding feet.
Indoor track was first created in the 19th century, according to scienceofrunning.com, and became a big hit shortly after. Indoor track is a big deal at the high school, even if some students don't realize it, multiple athletes per season go to state in their event each year.
"All outdoor events are offered indoors except for discus and 4x100m. Instead, indoor includes weight throw, triple jump, 60-meter sprint and 60-meter hurdles races instead of 100m and 100-meter hurdles," Assistant Track Coach and Science Teacher Zachary Grubb, said. Some more examples of outdoor events are long-distance running (800 meters through two miles) and sprints (100 meters through 400 meters).
Something unique about the track is that there are field events along with running events. "For the indoor season, I'm doing shot put and weight throw this year, which are the only throwing events for indoor," sophomore Jacksen Bice said, who has been throwing since seventh grade.
Indoor track has fewer events than outdoor track. This is due to limited space in the indoor facilities and a track that is half the size (200 meters). Some events offered in outdoor track and not indoor include discus, 100m sprint and 100-meter hurdles.
This indoor season was very successful for the Orange athletes, with many breaking past personal bests and three college-signed athletes already, Abby Wells, Cassisy Shimp, and Carter Giacomelli. "This year my indoor season went really well. I set new personal bests in both of my events and I've started talking to colleges," Bice said.
Many athletes use the indoor season to either get into good condition or practice their event more to be prepared for outdoors. Fewer athletes compete indoors versus outdoors, only about 80 athletes compete in indoor track, compared to the outdoor roster of around 240 athletes, according to Ohio MileSplit.
"Indoor season is optional and the athletes typically compete in fewer meets. Also, most of the better meets which are on 300m tracks are not in Central Ohio, so athletes have to travel more," Grubb said. The indoor team ran in places such as The Ohio State University, Otterbein, and Akron.
The indoor team recently came out with its indoor state qualifiers. Here are just a few of the outstanding athletes: Brooke Chapman, Teresa Christian, Abby Wells, Kayla Sucharski, Ashtyn Alphin, Lucas Frye, Carter Giacomelli, and many others. The full list of athletes competing can be found on the Pioneer Track Twitter page
"Overall, the season has gone well. We have several athletes who have achieved PRs and have several athletes and relays that will compete at the indoor state meet," Grubb said. The indoor track meet will take place Saturday, March 4 at Spire Institute, and the team has a total of 22 athletes competing in both running and field events.
In order to compete in the state meet, an athlete or relay team must be listed on the final top 40 performance list located on the MileSplit Ohio website. Along with the top 40 list on MileSplit, there is lots of other information, on the state meet, including results and replay videos.
As this indoor track season comes to an end, the outdoor season has already begun. Track athletes will continue to run in hopes to make outdoor PRs and enjoy the great weather to come.