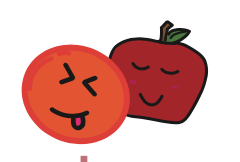 design: Lilly Wood
A student came to school one day upset about the financial troubles going on at home. There was no food at home and therefore he had nothing to eat for lunch. With no money in his account, he went the entire day wondering what he would do for lunch, and when it eventually came that time he didn't eat and went home starving. He didn't eat at all that day.
School lunches should be accessible and free to all students so that no child goes hungry throughout the day. In order to help the cafeteria make money to have varieties of foods, the entree of the day should be given for free with a fruit and a vegetable. Everything else should cost money when students are in middle and high schools.
According to 1808 Delaware, a news page for Delaware County, the price of breakfast is the same all throughout Olentangy schools, yet as a student moves through elementary school all the way to highschool the price of school lunches increases 25-30 cents a meal.
The increased prices of school lunches could ultimately cause a student to be unable to afford lunch anymore. These prices might decide how many days students have enough money to pay for food.
The variety of food in school lunches that is included in a regular entree does not drastically change throughout the years. The most drastic change in food variety is from elementary school to middle school.
The little difference in the varieties of food should not have an increase on the costs from different levels of school. They should be the same price so parents do not have to worry about adding more money to their students' card just to buy them less amounts of food.
According to 1808 Delaware, there are ways that parents can get a decrease in the amount of money paid for a school lunch. They can take off 30 cents for breakfast and 40 cents for lunch. Parents can apply for a reduced cost of school lunches by filling out an application and meeting all the requirements on that same form.
Even with this decrease in the price, this is still too much for some families who are struggling. Students should be able to be provided food at school because food is a necessity. People should never have to wonder where their next meal will come from.
There is a National School Breakfast and Lunch Program that puts rules in place set by the USDA that helps schools receive a small percentage of money per meal sold. This is the main source of revenue and helps operate the food department for Olentangy Food Service according to Café Manager Christine Swenson.
The school district is obliged to have a price on lunches if they want to continue participating in the National School Breakfast and Lunch Program. This program hasn't been updated since 2019.
According to Policy Matters Ohio, a source that explains Ohio's economy, 85 percent of jobs lost during Covid have been recovered. However, inflation is still very high throughout the stores and services provided in Ohio.
School lunches were free during the school years of 2022 and 2021 because schools' food departments were getting money from the state government to help fund foods needed. Now, the state is no longer funding school lunches, yet schools are continuing to buy the same foods they did during this period. The need to charge families for lunches arose according to Christine Swenson.
Americans should not be going back to an old way of living that doesn't fit people's lives anymore. As a country, Americans have changed and the school lunch costs should follow this. Inflation has gone up for families which gives them little room to spend money on lunch every day for their child due to buying other necessities. The lunch system should change with the times or at least be updated.
Americans should at least push for a change in school lunch prices. Not everything has to be completely free but there should be options that are. School food services need to be accommodating to every student and the only way that happens is if schools have some sort of free lunch offered for those who can't afford to pay for a regular priced lunch.