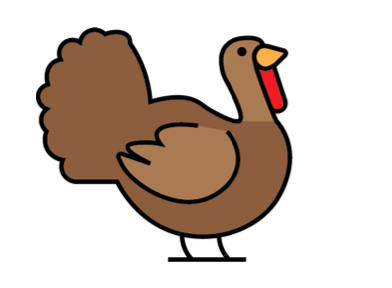 design: Audrey Selsor
Thanksgiving food is for many, the high of the year. From traditional staples like turkey, macaroni and cheese, and sweet potato casserole to more modern selections like peach cobbler, baked potatoes, and bacon wrapped asparagus, it's safe to say Thanksgiving gives all of us a little something extra for our taste buds to look forward to. Although the holiday guarantees delicious treats for all celebrating Americans, some of the foods are obviously less significant than others. This is my official ranking of the worst to best thanksgiving foods you might indulge in this year.
10. Dressing/Stuffing
Dressing is by far the least appetizing food thanksgiving has got to offer, sadly it's a must-have for the holidays in my household. Dressing is a mixture of cornbread, herbs, chicken/turkey broth, butter, and eggs. So, it's essentially a mound of mush my mom forces onto my plate every year, and even though the taste isn't that bad, the texture is absolutely horrendous, earning it a spot as the worst food thanksgiving has to offer.
9. Turkey
Turkey is one of the least delicious and most over rated foods you could possibly have this thanksgiving. While it is a Thanksgiving staple, it's also one of the most, in my experience, bland foods you could possibly chose to put on your plate. Turkey has consistently been a miss every thanksgiving, reasons ranging from it being incredibly dry to just something not appetizing enough to even place on my plate.
8. Bread/Dinner Rolls
Next up we have bread rolls. Bread rolls are consistently delicious. Because bread rolls are the safest option you can devour this holiday, they earned eighth best on the list.
7. Sweet Potato Pie
While it hasn't always been, sweet potato pie is a delicious classic. I'll always be sure to get a slice of it by the end of thanksgiving dinner. While the texture has much to be desired, sweet potato pie is still a delicious thanksgiving staple, earning it seventh on the list.
6. Deviled Eggs
Deviled eggs are quite literally the only eggs I'd willingly eat, maybe I'm just a picky eater but there's something about whipped egg yolk, mayo, and paprika that makes an egg taste absolutely delicious. The fact that it's part of thanksgiving dinner adds even more pizazz to this thanksgiving dish, placing it at number six on my list.
5. Sweet Potato Casserole
Sweet potato casserole is a delicious thanksgiving must, although, it only hits (maybe a diff word) when topped with crisp mini-marshmallows. Like sweet potato pie, sweet potato casserole has a bit of an interesting texture, but its gooey marshmallow top and delicious taste totally make up for it.
4. Mashed Potatoes
On any other day, mashed potatoes are easily ranked number one in my heart, but on Thanksgiving, they're number four as there are still other things that are better. Don't get me wrong, a bowl of cheesy mashed potatoes always sounds delicious, but so does a slice of honey baked ham on thanksgiving day.
3. Ham
I've always wondered why ham isn't the main course of thanksgiving, it's just so much better than turkey. When cooked correctly, ham is delicious no matter what. You can eat it alone, you can eat it in a sandwich, and you could probably eat it in a soup. Ham is delicious.
2. Peach Cobbler
Peach cobbler is definitely number two as it earns perfect scores across the board. With a perfect texture, a deliciously peachy cinnamon taste, and amazingly buttery crust it's the perfect desert for an after dinner feast.
1. Mac N' Cheese
This ranking should be self-explanatory. Whether its baked or not, mac n' cheese is perfect.