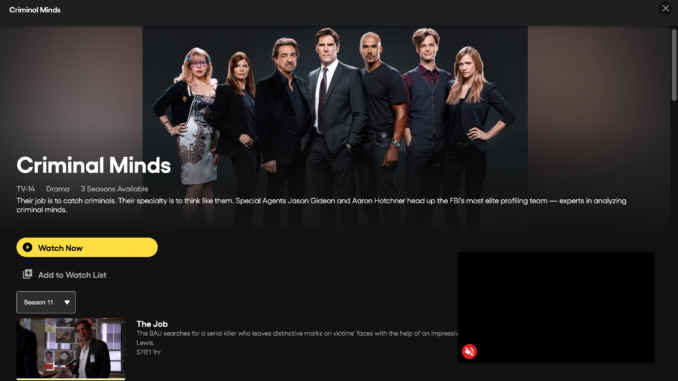 photo credit: Rachel Lehman
The show "Criminal Minds", a series released in 2005 about a group of FBI agents working for the behavioral analysis unit, has been a hit since the year it was released. With all the popularity surrounding the show, "Criminal Minds" is releasing a reboot, with new seasons coming as soon as Nov. 24.
"When I first heard about the "Criminal Minds" reboot I was very excited and interested to see what the new one would be like. I hope to see very mysterious and thrilling episodes," junior Jenna Durbin said.
The "Criminal Minds" reboot has sparked the interest of many previous fans due to the announcement that the show was coming back.
"I am happy that I am going to get new episodes of one of my favorite shows and be able to continue watching it even after finishing the original episodes," junior Avery Marshall said. "I hope to see the same kind of suspenseful episodes but also some new, never done before plots and storylines."
Although the overall reaction the fans had to the reboot was positive, watchers are a bit disappointed to hear that some of the show's most loved characters like criminal profiler Spencer Reid, won't be coming back for the new episodes.
"It makes me feel a little unsure about how the new episodes will be just because of how crucial some of the characters were to the show. It'll be interesting to see if they can carry on the same energy of the old episodes with new characters," Marshall said.
With some of the most popular members of the cast being left behind in the original series, the show may come with a different energy.
"I'm very sad about some of the characters not coming back because they made the show better and a lot of people like them, so it is very upsetting to know they won't be returning," Durbin said.
Besides the overall atmosphere of the show changing, the time period and advancements have changed drastically since the show was first released.
"The older episodes were filmed a while ago so the clothes they wore, phones they had, etc., were all older and outdated, so I'm excited to see if they change it to fit today's current fashion," Marshall said.
"Criminal Minds" has been popular since the day it was released, averaging over 33.9 billion minutes watched, according to the Variety Newsletter covering the most streamed TV shows of 2021. 
"You should watch "'Criminal Minds'" if you are interested in anything crime related or thrilling because it is a great show and I think the reboot will be just as good," Durbin said.
Paramount Plus has kept spoilers and previews to a minimum, leading fans with little to no idea what's coming their way when the reboot is added onto Paramount Plus in November.
"Criminal Minds" is super entertaining and keeps you wondering what's going to happen next. There are also tons of plot twists and it's hard to tell where it's going," Marshall said.
"Criminal Minds" will be available for all Paramount Plus users as early as Nov. 24, with all new episodes with some of the most iconic characters we all know and love.