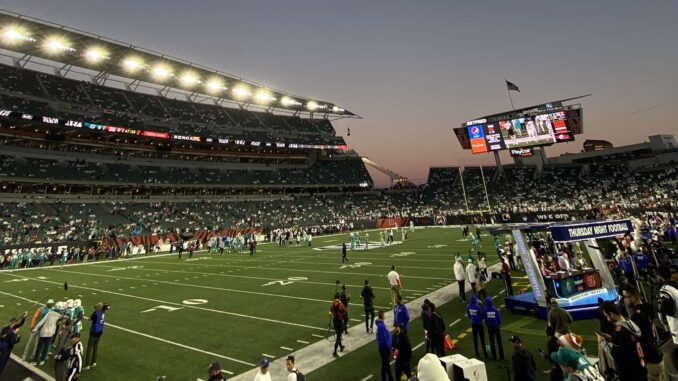 photo credit: Alex Johnson
The NFL season is finally here. With an offseason of trades and signing, lots of NFL teams look significantly different than last year. Let's look at some of the teams and players that can make a difference this year.
A team that many NFL fans are excited to watch is the Denver Broncos. The Broncos acquired former Super Bowl champion Russel Wilson in a trade with the Seattle Seahawks.
Wilson is a nine-time pro bowler and is known across the league as an elite quarterback. This acquisition makes the Broncos a very fun team to watch, and the change excites fans all across the league.
"I am most excited to watch the Broncos because of Russel Wilson," longtime Broncos fan and junior Jack Dial said, "Wilson makes them a potential Super Bowl team."
To acquire Wilson, the Broncos gave up Drew Lock, Noah Fant, Shelby Harris and a few picks, according to ESPN. With the potential of the new-look Broncos, fans are excited to see how the team started the year against the Seahawks on Sept. 12.
The Baltimore Ravens are coming off a season of injury after injury, but they are looking to turn things around this year. The roster has completely changed after players return from injury.
Players returning off of injury such as Lamar Jackson, J.K. Dobbins, Marlon Humphrey, Marcus Peters and Ronnie Stanley can be difference makers for the Ravens this season.
"The Ravens have the potential to have a great season," NFL fan and junior Mikai Thiam said, "They have had some decent shots in recent seasons and if Lamar Jackson returns to his unstoppable play, they will do really good,"
The Ravens have the potential; they just recently have not had the luck. If players can stay healthy, they have a shot to be a great team this year and could even make a run at the Super Bowl. They started the season against the Jets on Sept. 11.
After the Bengals Super Bowl run last year, lots of people are excited to see how Joe Burrow performs this year. In two years of being in the league, Burrow has had many injuries. But that didn't stop him from making and getting very close to winning the Super Bowl.
"If it isn't Chase (Ja'Marr), I'm most excited to watch Joe Burrow. He's getting comfortable in the league, and I want to see how his confidence can help him," Thiam said.
Burrows' Super Bowl confidence can make a difference this year and with the confidence of a leader, a team can go far. The Bengals open the season against the Steelers in a huge divisional game.