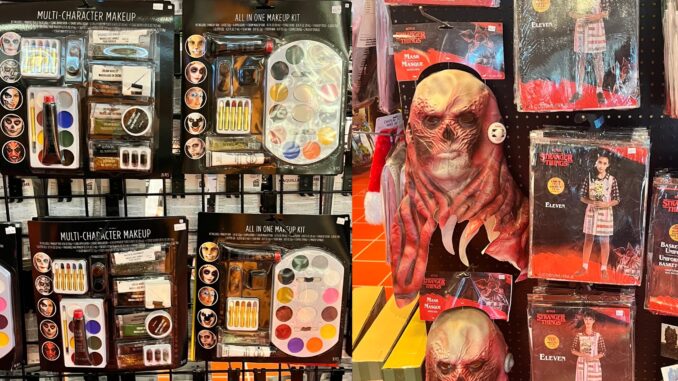 photo credit: Rachel Lehman
Fall is here, which means Halloween is coming up. For those who are indecisive and picks their costume last minute, hopefully this can provide some ideas.
The easiest type of costume to do is something classic, like a witch or a clown. A great way to put a spin on simple costumes like this is to do something different with the makeup.
A clown could have bright colors or some fake teeth or blood to look scary. For a witch, go for the classic green skin and black dress, or change it up by adding green or purple to the dress. A witch would be the best because it's a lot more adaptable whether it be scary or cute.
Another type of costume to wear is a new movie or TV character. Popular ones for this year will most likely be characters like Maverick and Rooster from the new "Top Gun" movie and Doctor Strange from "Multiverse of Madness". A unique TV character could be "Stranger Things" season four villain, Vecna.
This costume might take some more makeup skills or at least a mask. Other characters that would make good and simpler costumes would be contestants or guards from "Squid Game". Going as "Stranger Things" characters would be great for a group costume too because of the new season this year.
Next up is celebrities. Whether it be an award show look or a meme, there are many iconic looks from celebrities this year. The most popular one will probably be Queen Elizabeth II; this can be more simplistic and have a lot of variations using different looks of the Queen throughout her life.
Celebrities Met Gala looks are also good costumes such as Kim Kardashian's full body black dress. One of Rihanna's famous looks like the big black dress from 2021 can also double as a couple costume with someone dressing as A$ap Rocky in a blanket.
Another celebrity with lots of options is Harry Styles. A good look of his to recreate could be his pink Coachella outfit with shiny pants and a vest or just a colorful bodysuit would be popular looks that a lot of people would like to see this year.
A classic costume for a group of three is the Powerpuff girls. All that's really needed is pink, green and blue dresses and bows. Another group of three or four is "Mean Girls." For a group of three just do Regina, Karen and Gretchen and add Cady for a fourth. Well known looks from the movie include their pink wednesday outfits.
Popular costumes for groups of five or more include butterfly and fairy costumes which can be made different by giving each person a unique color.
Try dressing up as a classic horror movie character like Michael Myers, Ghost Face, It or Pinhead. These costumes are always easy to find because of their popularity and don't require much makeup besides face paint. These costumes are timeless but are more unique than just a normal witch or clown.
Most of these costumes can be found at local Halloween stores in sets all together. Amazon has many more options to get all the pieces separately, especially for more abstract costumes. For makeup either go to a Halloween store, especially for face paint or go to a normal makeup store like Ulta or Sephora. Those places will normally have Halloween themed makeup.