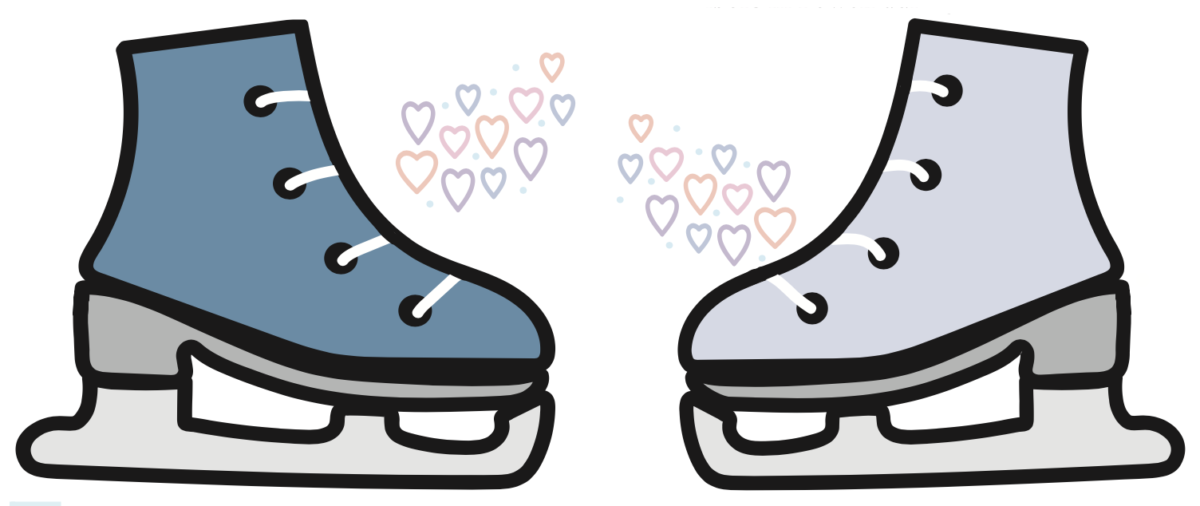 design: Teresa Christian
photo credit: Taylor Goudie
As the holidays approach, so does cuffing season. Many people have hopes in having someone to experience the winter months and go on holiday dates with. The options are endless: ice skating, seeing lights and more. So, I went out to experience these holiday date ideas, and they are just as fun as they're pictured to be.
First, I went ice skating at The Chiller, a local ice rink located at 8144 Highfield Dr. When I arrived there, I rented a pair of ice skates and got ready to skate. I went to the noon skate time, so it cost $8 and the skate rental was $4.
I went into the rink and there were already plenty of other people there skating, varying from beginners to advanced skaters. I noticed multiple couples skating as well. There was about an hour of public skating time, and as I hadn't skated in a couple of years it took me a while to get used to it again. It wasn't too hard to get the hang of quickly though. I skated for about an hour, and had fun talking to my friends that I went with. Once the hour was over, I left the rink and returned my skates back to the counter.
Ice skating was very fun, and I would definitely recommend it for a holiday date idea. It's easy to talk and skate and is a great way to break the ice- pun intended. It's a very casual, yet exciting date idea that's perfect for the holidays as the weather gets chillier. The Chiller typically holds skating time to the public at 11:30-12:45 p.m. or 1:30-3:30 p.m each day, and also 8:00-10:30 p.m. on Friday nights. I wished the noon skate was a little bit longer though because by the time I got skates and got the hang of being on the ice, time had gone by fast and I wanted to skate for longer.
Next, I went to the Lucy Depp Park Light Show to see lights. Lucy Depp Park is a free drive-through light show put on by a group of neighbors in Powell during the holiday season located at 9360 Frabell Dr. When I arrived there, I changed the radio station on my car to the station posted on a sign there that plays music that matches all the lights.
There were houses and trees upon trees decorated with lights. As I rode through the path, the lights would blink and flash different colors and patterns along with the music. I went through the show about four times and loved watching as the lights danced to different holiday songs.
The light show was a great experience, and I would totally recommend it for a fun holiday date idea. It was exciting to watch and was a good way to get into the holiday spirit. It was also free to go, and one can see the show as many times as they desire.
It's also much warmer than walking around and seeing lights as viewers stay in their cars to drive and see the show. I especially loved how every single light went with every song that played. The light show is a great way to enjoy another person's company when watching the bright lights and listening to the holiday music.
Overall, ice skating and seeing a light show are both perfect holidate ideas. They're both fun and casual dates that help people get into the holiday spirit and have fun with their significant other, or even just with their friends. It also shows people don't have to spend a whole lot of money to have fun during the holidays. Many people want to spend the holidays with the people they love, and these spots are great for spending quality time together and enjoying the holiday season.