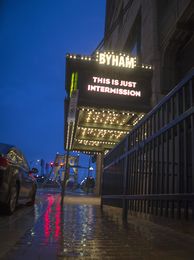 permission to print image: Gale
On May 7-8, Orangelight Productions did their version of extreme theatre. Extreme Theatre is theatre created from scratch, from page to stage, within a 24-hour period.
This took place from 7 p.m. Friday to 7 p.m. Saturday. Within that time, students stayed at the theatre, locked-in, and built a production from the ground up. They created the script, built the set, fit the costumes, set the lights, learned the lines and more. The culmination was a performance at 7 p.m. on Saturday on the Orangelight stage, showcasing what the students created.
The schedule worked like this Friday night: at 7 p.m. everyone gathered and there was a reveal of the requirements. After this meeting, writers and directors stayed while actors and techs were dismissed after auditions and initial tech meetings around 10 p.m. and returned Saturday at 7 a.m.
After auditions, writers and directors created characters, casted actors, brainstormed ideas, created a story line and began the writing process. Then they casted the productions. Tech designers began to determine what was available to use, current inventory, etc. Nothing could be built or pulled before 7:30 a.m. The Stage Manager published a schedule with meetings with all the writers and directors, usually every 2-4 hours, what the rehearsal schedule will be, etc.
During the writing process, the writers were surprised with a new line, set piece, lighting, sound or costume that they had to incorporate into the play. This year's writers Julia Mauger and Shannan Johnson along with director Mikey Mascaolia stayed up until 5:30 a.m. to complete the script so copies could be printed at 6:00 a.m. The actors, directors and tech continued their work for the rest of the day in order to bring the production to life.
This year's play focused around a seemingly normal family whose secrets were revealed at their beloved grandmother's funeral. The play was showcased all of their sleep-deprived hard work.