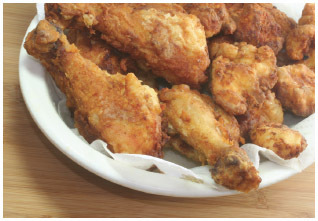 permission to print image: Gale
Many fast-food restaurants have begun to implement chicken sandwiches into their menu as their rivals have found success in doing so. They all have added their own unique twist in this simple yet delicious menu item.
The restaurants that I will be looking at will include McDonalds, KFC, Chick-fil-A, Wendy's and Popeyes. I will only be rating the base chicken sandwich with no additional toppings.
These restaurants all serve the chicken sandwich with different variations. They all range in different prices, toppings and textures.
Chick-fil-A sandwich has always been a fan favorite for many typical consumers and is priced at $3.05 and has only pickles as toppings.
I think you can never go wrong with getting the Chick-fil-A sandwich. The pickles pair exceptionally well with the brine on the chicken breast. Most of the time the chicken is very juicy and savory. I will personally rate it four stars.
Popeyes had created a massive uproar with the announcement of their chicken sandwich. It had lines piling up across many different chains with many people waiting hours for it.
The sandwich comes with its signature sauce and pickles and it is priced at $3.99. Although it is slightly more expensive than the Chick-fil-A sandwich, the chicken was bigger and crispier.
The sauce provided a tangy taste paired with the acidic taste from the pickles. It pairs super well creating a sweet and savory flavor.
I believe that the Popeyes chicken sandwich is better than the Chick-fil-A's. It hasn't been around for very long, but it edges Chick-fil-A out in the flavor profile and in value. I will rate the Popeyes chicken sandwich 4.5 stars.
McDonalds has been a classic to many fast-food lovers. They have recently replaced their buttermilk chicken sandwich with their new crispy chicken sandwich.
The McDonalds chicken sandwich is priced at $3.89 and comes with just pickles.
Honestly, I personally am not a big fan of this chicken sandwich. The buttermilk chicken sandwich was better by far and the taste does not justify the price.It tasted very basic and bland. I will give this sandwich 2.5 stars.
Next up is the Wendy's chicken sandwich. The sandwich comes with many toppings such as lettuce, tomato, pickles and mayo and is priced at $4.99.
It is the base option that comes with the most toppings in this lineup. Once again, the chicken sandwich is very basic and nothing extraordinary. However, the toppings do enhance the flavor of the sandwich. I will give this sandwich 3.5 stars.
KFC has always been known for their chicken and has recently created their new chicken sandwich item. They offer it in both the regular and spicy option.
The chicken sandwich comes with pickles and their spicy mayo and is priced at $3.99.
The chicken itself is very crispy and the spicy mayo adds a slight kick to the sandwich. This sandwich comes close to Popeyes, but the chicken from Popeyes was bigger. I will give this sandwich four stars.
Overall, chicken sandwiches are a go to staple at any restaurant that offers it. I believe that the Popeyes chicken sandwich is the best among this lineup.