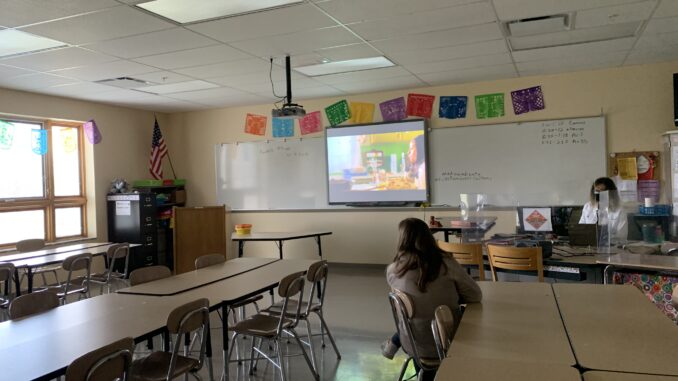 photo credit: Emma Clute
Movie theaters have been difficult this year: with extreme restrictions and most of them not being open, it has been impossible to relax and enjoy a move in the presence of friends. Fortunately, Spanish club held their own movie at the school and allowed students to enjoy the theaters once again.
On April 14 and 15, Spanish club students gathered in the foreign language wing to watch the movie "Canela" in an effort to learn more about cultural cuisine native to Spanish speaking countries. The event allowed students to have a fun and exciting break from the normal school day stress
"All members of Spanish club were invited to watch a Spanish-language movie," junior Spanish club officer Kirti Chopra said. "We had snacks and candy and the event spanned over the course of two days in Profe Sink and Señora Jackson's room."
The movie was chosen by the Spanish club advisors to represent the theme of the events for the month. Previously, Spanish club held an online cooking event, so this movie matched perfectly.
"Canela was selected to match the cooking theme Spanish club had selected for the month. It had themes about family, its importance and how good always prevails over the bad," Chopra said.
Watching movies as an event not only lets people have a good time, it also allows them to learn about different cultures in a nontraditional way, which can make it much more enjoyable.
Spanish club advisor Sonia Sink said that the movie "Canela" does a great job of showing Spanish cuisine and was helpful for members to learn about different cultures.
With the current circumstances regarding COVID-19, it has been difficult to hold events, but it was important for members to learn and have fun through this movie.
"During a pandemic, it can be really hard to keep up club comradery. With fun events like these, people can come together and practice Spanish while also being friends. It creates moments that will be memorable for years to come because opportunities like these rarely exist during a global pandemic," Chopra said.
Over the years, Spanish club has worked to bring everyone together and celebrate Spanish culture outside the classroom. They also work to teach and embrace different lifestyles.
"I really appreciate how the club always tries to incorporate themes, holidays and cultures into each meeting to teach members different things. It's always informative, but everyone always has fun as well, which is the best part," Chopra said.
Spanish club is open to all who are enrolled in Spanish classes. For more information, see any Spanish teacher or the Spanish club twitter @oohsspanishclub.