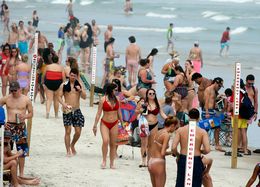 permission to print image: Gale
Spring break is arguably the best week off during any student's school year. Some students travel out of state for the week while other families don't even leave the comfort of their own home.
For the students who travel normally for spring break, all have their different reasons why they do. Some go and visit family they have in a different state or just want to go someplace warm and get out of town.
"I personally have traveled to Florida every spring break to go see my grandparents. I don't go only just to see them though, my family and I also go because of how warm it is down in Florida in the spring and to do all of the fun things to do there like swimming in the ocean and parasailing," sophomore Mikey McCollum said.
Other student's and family's plans are sometimes on and off and are never consistently traveling for spring break; most of the time this is because of the family's kids having sporting events during break.
"I have been on and off with traveling for spring break the past couple of years. Whenever my sports schedule and my sisters don't interfere with spring break, we have always traveled, but when we do have sporting events over spring break, we normally don't travel and stay back in Ohio for the break, even though I would much rather be traveling," sophomore Alex Jung said.
Some students and their families prefer not to travel at all; sometimes families do this so they can go on a big trip during the summer or just want to hang out in town and have a relaxing week with their families.
"I normally stay back home during spring break mainly because my parents do not want to spend a ton a money on only a week-long vacation. They feel that it is better to go on a big family vacation in the summer for a cheaper price," sophomore Owen Parsons said.