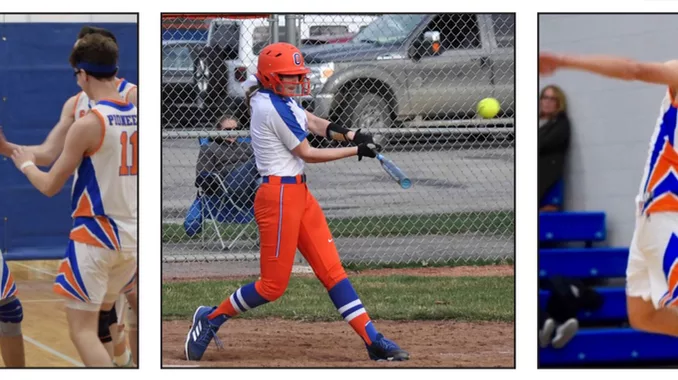 design: Nick Allen
photo credit: Maggie Van Fleet
While athletes were unable to have a normal senior season, COVID-19 adaptations allowed them to participate in modified final seasons. For some, this might be the last time these athletes step onto their fields, but for seniors Allison Rubal, Tanner Hegarty and Jake Smith, it's only the beginning.
Rubal has been playing softball since she was 5 years old. Even as a young child, she knew softball was her passion when she strongly disliked being forced to hit off of a tee during her OYAA games and not a live pitcher.
"COVID-19 and experiencing a stress fracture to my back were big influences on my decision to play in college. Being without softball for nine months made me realize how much I wanted to continue to have it in my life," Rubal said.
Due to her injury occurring during her junior year, Rubal was at a disadvantage when it came to recruiting.
"This time period was the most important time for recruiting so I was really behind when I got back to playing over the summer. I had to completely restart my recruiting process because of my decision to quit pitching and the type of program I was now looking for," Rubal said.
Softball has always been a large part of Rubal's life. She played on several travel teams until finding her place on the Ohio Hawks Organization at 11. Rubal still plays for the team and will be competing in the 18 & under division this upcoming summer season.
In December of 2020, Rubal committed to the University of Charleston in West Virginia to further her academic and athletic career. "I chose the University of Charleston because of the strength of their program. As a division II school, it is ranked within the top 25 in the nation. While visiting, I loved the campus and area as well as the coach. After my visit, I knew Charleston was my new top choice since everything fit really well with what I wanted from a program," Rubal said.
Hegarty began playing lacrosse in the fifth grade. He was a midfielder in middle school at Berkshire and has continued to play that position on the varsity team since his freshman year.
Hegarty spent his summers playing for Blackjack Lacrosse Club, True Lacrosse and, "finally finished my last travel summer with Haymakers Lacrosse Club," Hegarty said.
As COVID-19 prohibited the ability of an in-person signing, Hegarty committed to Wingate University over the phone from his home after he visited.
"The location of Wingate being close to Charlotte as well as the coaches and atmosphere of the program influenced my decision to go there. I also have a very strong passion for lacrosse and want to play it for as long as possible," Hegarty said.
Jake Smith has been playing boys volleyball for the past seven years. He has played for A2 volleyball club and Vanguard volleyball club as well as Orange's varsity team throughout his high school career.
Like Rubal, Smith committed to the University of Charleston back in late November. "My friends and family are a huge part of my life and if I could go to college and still be close to them, that's huge for me," Smith said.
Smith's favorite memory was from his sophomore school season, he helped the team win against Westerville Central in five sets.
"I had some really big kills late in the game. It felt good to lead my team to the win and overall that win really helped us a team," Smith said.
Growing up, a dream of Smith's was always to compete at the D1 level after attending camps and watching college games.
"I chose the University of Charleston because out of the last schools I had it narrowed down to, it was the closest to my goal," Smith said.