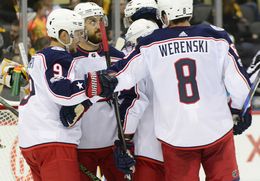 permission to print image: Gale
The Columbus Blue Jackets, Columbus' pro hockey team, is over half way through their season and they have been disappointing to say the least. As it sits right now, they are fifth in the Discover Central Division, based on points and if the points percentage is calculated. All over social media, the Fifth Line is calling for the firing of head coach John Torterella, the winningest head coach in the franchise's 20-year history. The Blue Jackets has made the postseason the last four years, and have two series wins (one of those being in the Toronto Bubble in a five-game series).
To start off the 56-game season this year, the first line centermen Pierre Luc-Dubois wanted traded, and he got traded to the Winnipeg Jets for Patrik Liane and Jack Roslovic. That trade has panned out okay for the CBJ, but the team still isn't winning games. Liane has struggled to find his game in Torterella's system, and the rest of the team has lost their way. The Jackets of the past four seasons has been built on strong defense that wins low scoring games. When a guy like Liane is on the team, he doesn't quite fit the program, because he is such an offensive phenom with not much help in the offensive zone.
If the CBJ wants to get rolling and keep this team together, they need to start winning games, and they need to start winning them now. Trade rumors are swirling and general manager Jarmo Kekäläinen might be ready to make some big trades. Among the players rumored is Captain of the CBJ, Nick Folignom, which leads some to speculate that it is not only going to be a sell for the team, but also a shift in the culture of the organization.
Starting March 18, the CBJ begins their four-game stretch against the hottest team in hockey, Carolina, where the Jackets will need to win three out of four games to stay afloat. Torterella has worn out many of the fans as well; the Blue Jackets hasn't had too much success from their first 20 years. The addition of a superstar talent like Liane is similar to having Rick Nash like the club did in the early 2000s, but the question now becomes: can he have similar success as the Rocket Richard winner Nash did?