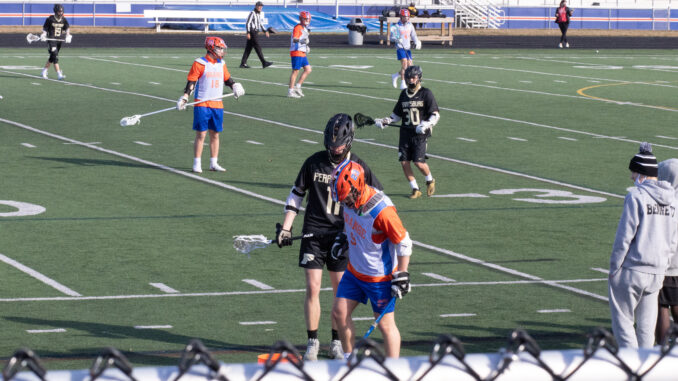 photo credit: Kayla Delmore
It's almost spring, which means the lacrosse season is coming up fast. With the season canceled last year due to COVID-19, the boys lacrosse team is looking to have a successful season.
The 2020 season was looking to be a great season with the new head coach Jarrod Gilliam who was implementing some new tactics for the team that would help them rise to the best Olentangy. The hopes were high for the seniors who wanted to have their last season be a memorable one, this was sadly ended and the season canceled.
With everyone going back to school full time for the later half of the 2021 season, the boys are looking to play all the games they can and make it worth their while. Gilliam is expanding on the ideas and new play styles implemented from the previous season. This includes having a healthier and more connected team, making an open play style and working hard together as a team.
"I'm looking forward to playing against Olentangy and beating them for the first time in a while," sophomore Eli Gleckler said.
The seniors this year have stepped up and have taken the torch to lead the team to a successful season.
"I think our seniors are doing a great job leading the team, they are setting a good example and have helped me improve a lot," sophomore Carson Britton said.
So far the boys have played Perrsburg and Big Walnut in scrimmages in the preseason. The Perreysburg scrimmage was a dip in the water to see how the season will look; the scrimmage did not go as planned and the boys did not come out with the victory. However, with a taste for vengeance, the boys blew Big Walnut out of the water, winning 14-5 and proving that this season will be one of their best.
"We have the potential to do really great this season, we just have to keep our heads in it," Gleckler said.