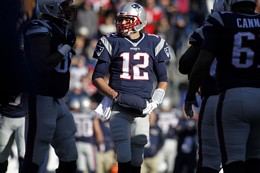 permission to print image: Gale
The 199th pick in the 2000 NFL Draft and the man who was supposed to be a career backup in the NFL: Tom Brady. He got an opportunity to start in his rookie season and never looked back again. This feat proved Brady is the greatest player of all time.
There is not one player in today's NFL that has more than two Super Bowl wins; getting to the Super Bowl is not an easy thing to do. Some players go through their entire careers and can't even get into the Super Bowl or the playoffs.
Brady makes it look easy though. In his 20 seasons in the NFL, he has made the Super Bowl 10 times, which gives him a 50 percent chance to make the Super Bowl every season.
Brady has 79,204 career passing yards and has the second most of all time only trailing the New Orleans Saints quarterback Drew Brees who has 80,358, according to statistic.com. The scary thing about this is that Brees retired this season, and his record will probably only hold for just this year because ever since 2002, Brady has thrown for 3,000 yards or more in a season, making it inevitable that Brady will break this record.
Brady also has the most touchdowns of all time with 581 touchdown passes to his name; the only one that is close to him is Brees with 571 touchdown passes, according to espn.com.
Brady has the most career wins out of any NFL quarterback that has ever played in the NFL with 230 career wins to his name, according to pro-football-reference.com. The only player that is close to him is former Green Bay Packers and Vikings quarterback Brett Varve who has 186 career wins.
There is not one player who will ever have the same mentality as Brady either; he plays like his job is on the line every single game. Even at the age of 42, Brady is always running around the field screaming and yelling and pumping up his teammates for every game they play.