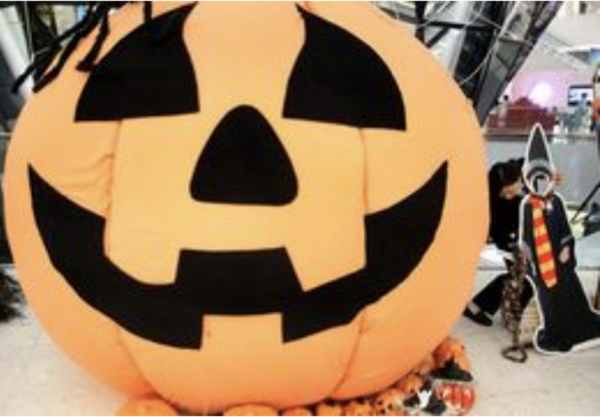 permission to print image: Gale
In this difficult year of 2020 while many lives are still being heavily affected by COVID-19 and the presidential election coming up soon, there is one thing to look forward to: the holiday season. While there still may be some limits to what the world can do this year, it should be looked at as a time of celebration and peace.
Many people are looking forward to this spooky holiday like sophomore Brock Bandy who said, "I am so very excited for Halloween and am looking forward to it!"
This holiday may provide many people with some relief from the world's problems and get a chance to enjoy this year.
The October season brings the spookiness that is Halloween. While COVID-19 sets limits to what can be done, the CDC has released some things to do during Halloween.
"Provide updated information to your guests about any COVID-19 safety guidelines and steps in place to prevent the spread of the virus: social distance, limit close contact and wear masks," according to the CDC.
While there are still some major restrictions on what people can do, some are still choosing to have safe and responsible parties.
"My friends and I will probably just have a smaller get together this year than last year," sophomore Vance Padela said.
There are still some people who are concerned about the safety of others in this time. "I'm more worried about spreading it rather than getting it," sophomore Jack Wisneski said.
This concern from some of the students is understandable at this time and to keep people safe most people are going out of their way to safely celebrate Halloween.
"I will wear a mask and most likely gloves when I go out on the holiday to protect myself and others from spreading and caching the virus," Bandy said.
In an article published by the CDC, the organization provided a list of some low risk Halloween activities that could help families who are sick or not wanting to take the risk of doing most Halloween celebrations. Some of the activities on the list include, "Carving or decorating pumpkins with members of your household and displaying them, having a Halloween movie night with people you live with and having a virtual Halloween costume contest."
During this difficult time, it can be hard to enjoy most things but during this holiday season make sure to stay safe so everyone while following proper safety measures to protect the health of friends and family. Follow CDC guidelines to stay safe this holiday season!