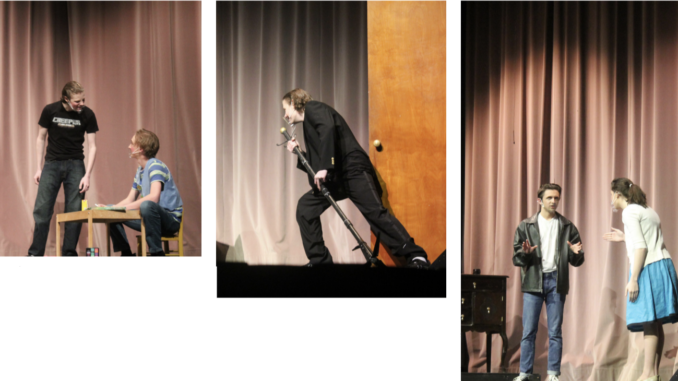 design: Jaylen Lewis
photo credit: Teresa Christian
The theater department produces several smaller plays every other year, they are all directed by the students and called the Student-directed One Act Plays (SOAP). "Mouth of Babes", "Small World", "Porch, Blind Date", "Twitch", "1955 1985", "Say Nothing" and "Action News" were the eight plays made this year.
14 students worked to produce them and they were showcased on Jan. 29-30. Close to 100 tickets were sold, and the plays were more focused on lightening the mood of others.
"This year we had more comedies than ever before (seven out of the eight shows), and our shows are historically the shortest with small casts. We did everything we could to follow COVID protocols while focusing on light–hearted comedies that we hoped were perfect for audiences that want to laugh a little," stage manager and senior Emma Winder said.
One of the plays was titled "Action News", and it was a comedic play involving a news station and events with many people. There were many set and character changes, which made this play so entertaining for some people.
"Probably my favorite and the favorite of others would be 'Action News'. It involved lots of quick changes for the actors of both costume and character. But it was probably the most hilarious show we did," set lead and sophomore Madi Patton said.
Another play called "Blind Date" was about a girl who was set up on a date to go out with a man who is blind and British. It involves dramatic irony to create a humorous effect where the audience knows things that the characters don't.
"I really enjoyed my own SOAP, but as I watched the other performances I was beyond impressed. I was really impressed with 'Twitch' and 'Blind Date' as well. They were hilarious and really well directed," actor and sophomore Alaina Boles said.
In preparation for the showcase of the plays cast, members and directors began casting and the first rehearsals were in early December. They continued their work until the week of the performance. They would meet two times a week for roughly three hours and come in on the weekends to do extra work as well.
"The work can stretch from getting familiar with the play, trying to figure out the different characters and their personalities, how they walk, how they talk, how to be a better actor overall and so much more. For my play, I had five different characters so I had the opportunity to get very good at quick changes and learn how to create five separate characters compared to an actor learning one role," Boles said.
In addition to the directors and cast members, three people worked specifically with the sets to make sure scene changes would be fluent and efficient. Two weeks prior to the performance, they worked with the directors to rehearse the set changes and to make a few pieces.
"We had to choose all the set pieces for each play and figure out how to make the scene. There were a few things we had to make; my favorite was an apocalypse machine that I made for "Action News". Then, we also had to completely change the scene after every one act play, but the actors were super helpful when changing scenes because just the three of us couldn't do that alone," Patton said.
Overall, the SOAPS are a fun way to express creativity and put a vision into action upon the stage. There is learning in it for everyone regardless if they are in the cast or in a directing role.
"Underclassmen can look forward to being able to direct on their own show because it not only gives them the opportunity to explore all aspects of theater and see exactly how much goes into each show, but it also allows them to be in a leadership role in front of their peers and collaborate with their cast and possible co-director to put on a great performance. Life skills are a huge takeaway from the SOAPs experience," Winder said.