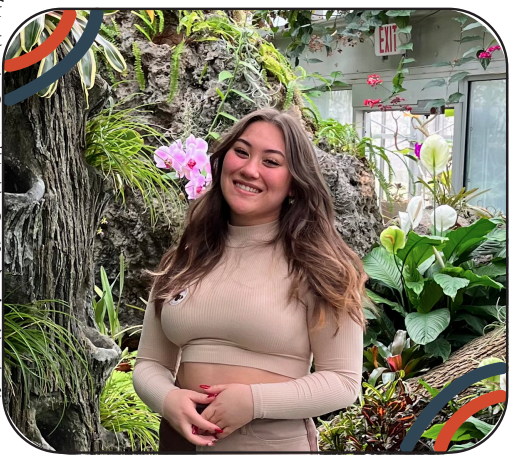 designer: Mazzy Seigneur
Like a lot of people, I love constantly having my nails done. Something about being able to match the color and design with upcoming seasons and holidays just brings me pure joy. However, seeing how much it costs is a real punch in the gut. Depending on what service people decide to get, it can cost up to $100 just to get their nails done. Gel manicures with acrylic extensions are by far the most popular, but also the most expensive.
I started doing my own nails in the summer 2020, when businesses were shut down due to the outbreak of COVID-19. I grew my nails out naturally and used regular nail polish I bought from Target. While my nails were really healthy and the removal process was really easy, I hated that it took forever for the polish to dry and how quickly it would chip.
My mom's friend who owns a beauty shop would do my nails at her house sometimes and instead of using regular nail polish, she would use gel polish that can be cured under a UV lamp and harden in just 60 seconds. This inspired me to invest in my own UV lamp and gel polishes.
On Amazon, customers can buy different gel polishes individually, or in bulk. Including my UV lamp, drill set, brushes, files and polishes, it at least cost $100, which is not bad considering that the materials will last a really long time and I have multiple sets of polish.
Eventually, files will have to be replaced and polish will run out. However, most colors will last an extremely long time, and if there's one color that is constantly running out or that one may absolutely love, it can be bought individually.
One great brand on Amazon is MEFA. They have many different sets of 20 polishes that are different colors and shades and include a base coat, shiny topcoat and matte topcoat so it's a great brand for beginners. Additionally, it's pretty affordable with the prices ranging from $20-30 per set.
While doing my natural nails is nice, nothing infuriates me more than when one of my nails breaks. Then, I have to trim my other nails to make them all the same length. KISS, which sells a variety of beauty products, sells do-it-yourself acrylic and dip powder that comes with instructions and all the materials needed to get a salon-quality manicure.
Doing acrylics yourself is definitely the trickiest because it's so easy to do incorrectly. Then, the nails end up looking bumpy and just flat out ugly. For me, I'm not a fan of acrylic because the application and removal take forever, and the smell is also really strong. I like dip powder a little bit better because it's more beginner-friendly and easier to do. However, because it involves dipping fingers into powder, it makes a huge mess.
The solution that I found works best for me is buying KISS natural press on nails and then painting them myself. The kit includes nail glue and nails of various sizes. It's then the cheapest option with the press-on nails costing about $6 and the application time becomes quicker because all I have to do is glue the nails on.
When people do dip powder or acrylic nails, sometimes their nails can break in half which can result in them taking their whole set of nails off. However, I have never had this issue with press-on nails. If one pops off, I can simply glue it back on. Also, if the nails are gently removed, they can be reused. Removal is similar to other nail extensions which include soaking the nails in acetone to loosen the glue, making the removal easy.
I highly recommend this hobby to those who enjoy doing their nails frequently. Some days I enjoy turning on a Netflix show and spending time doing my nails. I've found this technique to be the most cost-effective and easiest so I encourage others to give it a try.