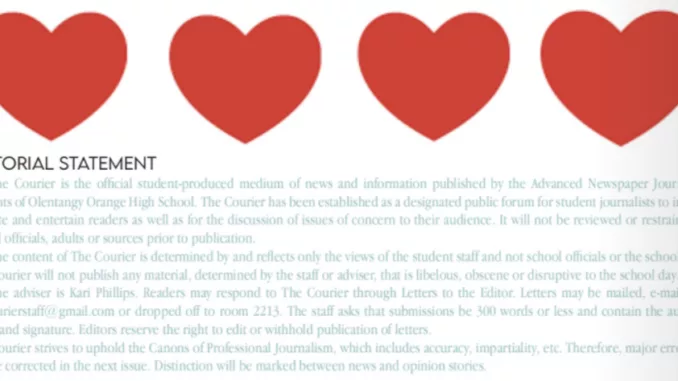 design: Morgan Kubetin
As one of the biggest holidays for couples and people who want to express gratitude towards their loved ones, Valentine's Day has gradually turned into a materialistic holiday. Therefore, we, as the Courier staff, believe that society should break this existing status quo in order to preserve the once sentimental tradition.
Statistics from the world's largest retail trade association called the National Retail Federation (NRF) shows that people who celebrate Valentine's Day are spending now more than ever. The data from the survey proved that the average Valentine's Day spending of 2021 was going to be higher than the previous year.
According to the survey (conducted by NRF), "total spending will reach $21.8 billion on gifts for partners, friends, pets and more." Their research also presumed that consumers would spend "an average of $164.76 on loved ones."
The intentional/unintentional pressure we get from trying to find the "perfect" gift for that special person in our lives is exactly what pushes us to continue monetizing the holiday and redefining the meaning of love.
With commercialism now embedded into the holiday, it is hard for Valentine's Day to remain a sentimental tradition. In regards to the survey, NRF President and CEO Matthew Shay said that "the gift-giving [aspect of it, is something that] can be driven by the economy."
There are several ways to transition away from this materialistic holiday and seizing to further monetizing it. However, we believe that these three methods should prove to be very effective if implemented in the coming years. They should also help preserve the true meaning of Valentine's Day.
The first method involves spending less money on physical gifts. This one is a no brainer because Valentine's Day would be far from materialistic if people simply stick to chocolates, cards or flowers. Maybe even a not-so expensive jewelry if one is feeling less "cheesy" or "basic". The point is, the price or size of the gift does not matter because it can't accurately measure and equal to one's love for another.
The second method is all about celebrating in a surrounding that may be filled with memories, or a place that one simply doesn't have to pay to get into. Cancel that dinner reservation or hotel reservation and have that meal right in your bedroom, dining room, basement, or on the couch! The location doesn't have to be anywhere fancy because it's not where you spend the holiday, but who you spend it with. This method could also allow one to save money that could've been spent on pricey restaurant food and gives the opportunity to even prepare a meal with a loved one that could result in a casual yet meaningful experience.
Lastly, and this should be a no brainer as well, considering the fact that this is an era of technology, but be sure to utilize that cellphone! Texting, calling, and even posting our loved ones or making posts regarding them is still an effort to show and honor them on that special day. Not everyone is fortunate to be right next to their loved ones on Valentine's Day sometimes, but that doesn't mean one should buy a plane ticket or drive a million miles just to celebrate. The world is much smaller now due to technology, and it may seem like a plain way to celebrate but it's the effort that counts on this day of love.
In all, the origin of Valentine's Day is love. And love is free, so let's stop making it about money and more about expressing gratitude to our loved ones in the most meaningful way that we can.