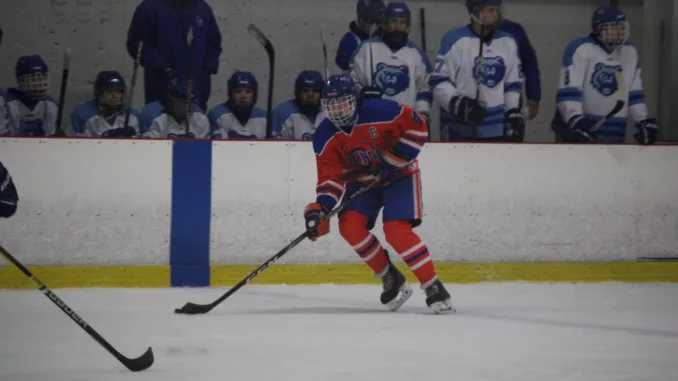 photo credit: Gabriella McAninch
After the 2019 winter season, the Varsity Hockey team bid farewell to not only nine seniors, but also to their head coach J.D. Damrath. Heading into the 2020 season, the boys were ready to defeat the odds with a small yet talented roster, and with the emergence of the new head coach Breton Blaskie.
"This season we do not have many players so each game everyone is playing a lot of minutes," senior captain Austin Knupp said. "Our goal each shift is to just 'win the shift'. We just go into the game wanting to work hard and come out on top as winners."
Staying true to their promise, the team started their season with a 4-1 win over Hilliard and a 5-2 win against Thomas Worthington. The 11-man strong varsity team was able to tally up to nine goals between the two games.
"I think we have some top-end talent here. We may not be deep, but we have a lot of talent," Blaskie said. Blaskie says that there is a lot of great upperclassmen leadership and that the team's success starts with them.
Some of the returning leaders consist of senior captains Austin Knupp, Clayton Headlee, Ethan Muth and Payton Muth. Over the summer, they lead the team in multiple conditionings to bond for the season, including running the hill at the Alum Creek dam.
Assistant captain Ethan Muth said he can't wait for the rest of the season next to his teammates. "Our connection is very strong on and off of the ice and that's what makes us so successful," Muth said.