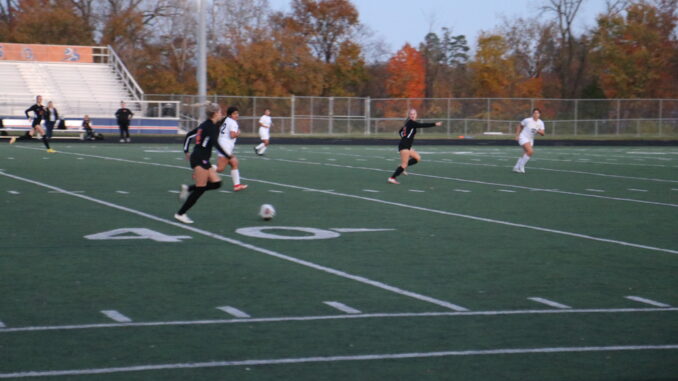 photo credit: Kayla Delmore
Olentangy Orange Girls Soccer or "OOGS" faced a tough loss in the semi-final game. The girls worked tirelessly to make their way up to the final four. These girls put in so much work in order for them to be undefeated for their entire season. Let's look into how these girls worked their way to the top.
Ava Harrington and Emily Whitcomb are part of our orange girl's soccer team and have shed some light on the ups and downs of their road to success.
After asking what really made their team so strong to make it so far in the season without a single loss sophomore Ava Harrington told us "I think becoming closer with my team made my season a lot better, it's hard to play with people for so long and you have no idea about them," Harrington said.
Not only were their strong bonds with each other important but also their practices were crucial factors in having a season like this one.
"In-season practices are working a lot on passing and shooting and sometimes full-field scrimmages. The day before games we always do a competition day which is something more fun and light yet still competitive," sophomore Emily Whitcomb said.
Now that their season has come to an end the girls are still working hard and hopefully will come back next year better and stronger than ever.
"The best part about high school soccer for me is the friends you make. Even when I'm tired after school but have practice my teammates find a way to make everything fun. Everyone becomes close during the Summer practices and throughout the season making it a really fun environment," Whitcomb said.
This year we have become so close to being state champs. Let's see what this new season brings upon us next year as we see hour our girl's soccer team continues to flourish, grow, and work hard this upcoming season.