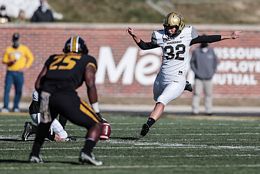 permission to print image: Gale
Football history was made on Nov. 28 when Vanderbilt player Sarah Fuller became the first woman to play in a collegiate football game for division I. She started as the kicker because their starting kicker was out with an injury.
It took half the game, but Fuller got her chance to kickoff to start the second half. She kicked it 30 yards and it was a squib kick in order to not let the opponent return the ball.
"It was a great opportunity for a female athlete to finally demonstrate her talent on a big stage," Football Special Teams Coach and math teacher Bobby Roth said.
However, that was not her last time on the football field. On Dec. 12, Fuller made history again after making two extra-points for the Commodores.
"I just want to tell all the girls out there that you can do anything you set your mind to. You really can. If you have that mentality all the way through, you can do big things," Fuller said after her game against Mizzou, according to CBS Sports News.
This event opened the door for many female athletes to be inspired, not just in the collegiate game. At the high school level, students could see females trying out for football in the future.
"I can definitely see more women trying to play football in the future. Sarah Fuller definitely inspired many young women to step up to the plate and play football," junior and kicker on the football team Jack Behre said.
Other women have begun playing football too. Whether it's high school, collegiate or elementary football, women are becoming more confident to play.
"At my previous coaching job, we had a girl kicking for us. USA Olympic lifter Holley Mangold was a very good football player here in the state of Ohio as well. Both of these women received very little recognition," Roth said.
Females are not only gaining more confidence in playing football, but they are also gaining confidence in becoming refs. Throughout the NFL season, many women have refereed. For example, Sarah Thomas is the first and only female referee in the NFL. These women involved in football continue to inspire more girls every day.
"I think it's something special. It really shows that men aren't the only ones capable of playing a sport most often played by males. I feel like more women will step up and play football," Behre said.
As more women try out to play football, the community could see a female try out to play football at the high school. As of right now, the number of female football players is slim to none, but this will hopefully increase in the years to come.