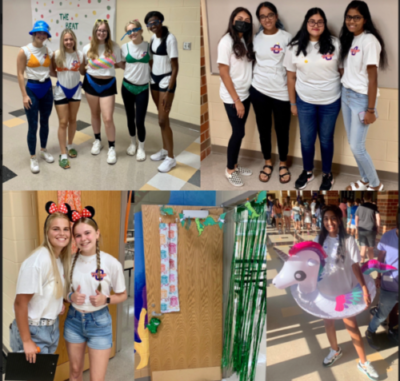 photo credit: Monica Asher
As a new student at the high school, it can be stressful when figuring out one's place.
Pioneer Ambassadors is an organization for juniors and seniors that coordinates freshman orientation and makes the start of school an easier transition for the new students.
"Planning and running freshman orientation, helping with curriculum night, working with freshmen during home base, new student tours and any other initiatives they would like to start," are all objectives that Pioneer Ambassadors work to accomplish according to English Teacher and Pioneer Ambassadors Adviser Christine Dutrow said.
"We give them a description of the clubs at the school and share our opinions. We help them walk their schedule out and point out important areas in the school, junior Pioneer Ambassador Avery James said.
Students join Pioneer Ambassadors for a variety of reasons.
"When I heard about Pioneer Ambassadors, I decided I wanted to join it because I remember as a freshman it was quite difficult finding my way around the school and getting to know new people, so I wanted to do my best to help the new students," James said.
Not just any junior and senior can qualify to be a Pioneer Ambassador, there are a few expectations students are encouraged to meet.
"I look for students who are genuinely interested in building our community and traditions. I also look for students who are friendly, enthusiastic and comfortable speaking in front of a group," Dutrow said.
Pioneer Ambassadors aren't just leaders for the teachers; they are also leaders for the student body as well.
To apply for Pioneer Ambassadors, there will be an interest survey on Schoology that Dutrow releases in February.
"I would totally recommend for any junior to join Pioneer Ambassadors. You can do it with your friends, and it's an easy and fun way to help around the school and be more involved," James said.
Pioneer Ambassadors has been in action for many years and was adopted from the other district high schools.
"We wanted to make sure that all of the freshmen felt supported in their first year of high school. We also wanted to put the planning and implementation of freshman orientation in the hands of the upperclassmen," Dutrow said.
Being a Pioneer Ambassador comes with many responsibilities, but it is also a very rewarding organization to be a part of.
"Being a Pioneer Ambassador is a great way to help build our school community," Dutrow states.