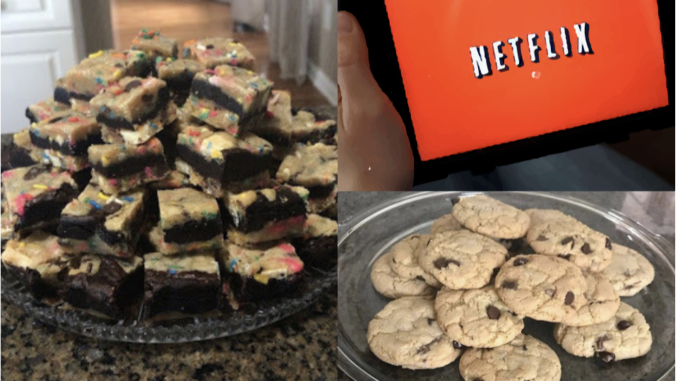 photos: Shreya Arunkumar
design: Sam Amonette
With social distancing guidelines and popular areas closed, many teenagers are finding themselves bored during this time of Coronavirus regulations. But, there are some "highs" along with the "lows" that come during this time. If thought about, there are many things that could keep teens busy during this time.
Fresh air and being outside has been a relaxing and main source of enjoyment for many people during this stressful time. From playing in the back yard with siblings and going on walks/hikes to playing sports with a friend or two, there is something for almost everyone to do outside.
"During COVID, I was spending time outside a lot more," sophomore Ever Shoup said.
"I just went on a lot of walks and hikes to take my mind off things and kept busy; it really gave me something to do."
For example, running is a good way to spend time outside. It allows people to stay in shape for a sport, or in general just keeps everyone healthy and fit.
According to St. Lawrence University, "The great part about running is anyone can do it at any pace, even if that means starting with a long walk. If you have been running your whole life or want to do it for the first time, now is the time to start."
Quite a few people have also taken up the task of learning something new. Coronavirus quarantines have given them the time to learn something that they have always wanted to or take the time to get better at something they already know.
"I didn't really learn anything new, but I was glad that I got to paint and get better at that," sophomore Kara Geiger said.
Some have also been using the extra time to get better at their baking and cooking. The internet and social media have a lot of new recipes to try out that look promising and delicious.
"I also baked a lot, and I made an Instagram account to show all the stuff I was making," sophomore Loren Geiger said. "I've baked different types of cookies, cakes, brownies and muffins. I have also done some experimenting with healthy ingredients and substitutes."
For many people, getting closer to family has definitely been a plus that came out of COVID quarantine. Because there are restrictions about going out with friends, there are lots of different activities to do with family right at home to pass time.
"During COVID, I began to spend more time with my family," Shoup said. "We had a routine, like every Friday we would watch a movie or play a game together."
These days, there are also so many streaming apps and websites to explore new movies, and/or rewatch favorites. So, whether someone is by themself or with others, T.V. is almost always a good option.
According to CNET, "There's always a show to binge – new or old – regardless of the service you're subscribed to. You might also check out a platform you're not subscribed to, like live TV streaming service Sling TV or YouTube TV. And don't forget about HBO Max, Amazon Prime Video, Apple TV Plus and Disney Plus."
COVID-19 lockdowns have also given people the time to satisfy their personal needs and wants, which is important. Doing what they want to relaxes people during this possibly stressful time, and allows them to enjoy their moment in the present.
"But also just take care of yourself," sophomore Sraavya Paul said. "There's a lot happening in the world right now so it's OK to honestly just take a break."