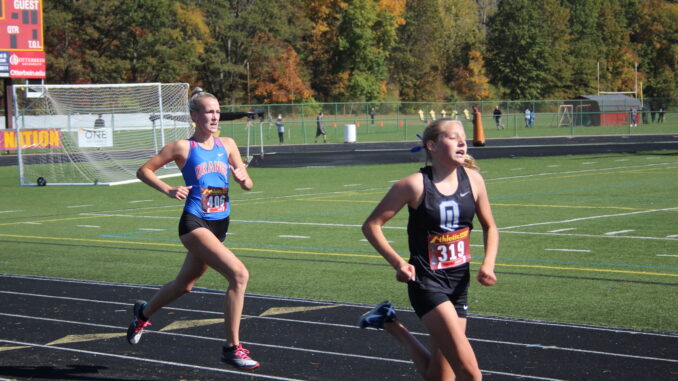 photo credit: Jake Barnhart
The cross country season was a year of success and improvement for the girls. By training throughout the whole summer, running almost every day, they were ready to take on the season. In order to make it to regionals by the end of the season, the girls had a long road ahead of them.
Even though races are 3.1 miles, their training consisted of running up to about eight miles. All of their hard work and dedication would eventually lead them to the OHSAA (Ohio High School Athletic Association) Regional Race where they placed ninth out of 17 teams. In 90-degree weather, rain, or in the dark, they trained almost every day whether they ran alone or together as a team.
"We trained three to four days, and we would meet up at parks, two to three days a week. During our preseason, we learned that many of our big invitationals had been canceled due to COVID-19, which was upsetting," sophomore Lainey Garling said.
After a long summer of training, the girls were ready to race in the Woods and Mud Invitational. The course was very hilly and uneven, so the race would be a battle. Sophomore Kayla Sucharski led the Pioneers in the race by placing 14th with a time of 20:35 and the team placed third overall.
Their next race was at Dublin Jerome in the Celtic Clash on Sept. 26 where they placed fifth and senior Medha Patria led the team by placing 14th. Even though it was not the overall result they had hoped for, a lot of the girls achieved new PRs. When achieving a new PR, the girls would feel ecstatic with a sense of tiredness running through their bodies.
"During the race, it's the worst feeling ever. You're dying, out of breath, and you just want to give up. But, once you cross the finish line, a wave of relief and happiness washes over you and it's the best feeling ever," Garling said.
With the team already improving within the first few races, they knew this season would be special and successful as it progressed. The girls were all supportive of each other, and they always encouraged each other through their highs and lows.
One of the team's best races this season was at the Berlin Bear Den Dash on Oct. 3. Freshman Mairin O'Brien led the team by placing ninth with a time of 19:55. This was her first time ever breaking 20 minutes and her best race of the season.
"My best race was probably the race at Berlin, that's when I first broke 20 minutes and right when I crossed the finish line, I broke down into tears because I was so tired and mentally exhausted," O'Brien said. This was the first huge milestone of O'Brien's cross country career and she is looking to PR even more next season.
Patria also broke 20 minutes this year in the Leis Eisenhart Invitational. She placed sixth with a time of 19:52 and the team finished third overall. All of the team's hard work would eventually pay off and lead them to regionals on Oct. 31.
The regional meet was the race just before states and the girls prepared by stretching and icing daily. O'Brien led the team by placing 23rd with a time of 19:58. Unfortunately, the girls did not qualify for states as they placed ninth overall. States took place on Nov. 7, and the top 20 runners qualify for states or the top five teams.
To lead them through the season, they used a new motto, "The pain of regret after the race is much bigger than the pain during the race." This motto pushed the girls because they thought that if they didn't run their hardest during the race, they would regret it once they crossed the finish line.
Even though they didn't qualify for states, they raced very well throughout the entire season. Everyone on the team achieved new PRs and they learned a lot through injuries, training, and a long season.
O'Brien, Patria and junior Abby Schroff also earned All-District Honors this season. They all helped lead their team to regionals, and O'Brien and Schroff are ready to lead the team again next year. Once the season came to an end, the girls were happy to see how much they improved.
"I was so happy and satisfied to see that my hard work paid off," O'Brien said as she described how she felt at the end of the season.
The girls had a great season, but they are eager for more success next year. They will be looking forward to not only achieving new PRs, but also winning meets, and hopefully making it to states. After a long season, they are now in recovery/training mode where they will keep running to stay ready for next season, while also resting and healing their bodies.