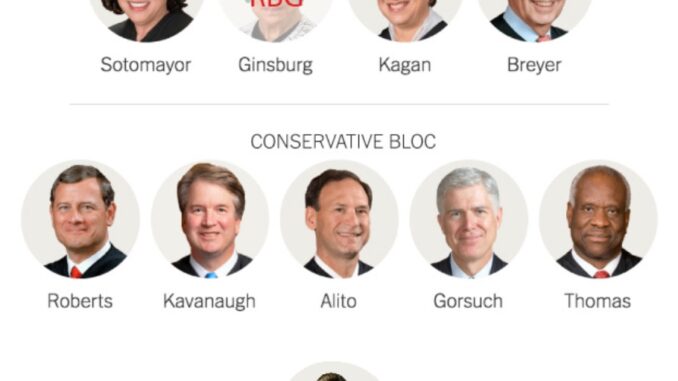 design: Abby Robinson
With the passing of Ruth Bader Ginsburg, a Supreme Court Associate Justice of 27 years, President Trump nominated Amy Coney Barrett to fill the vacancy on Sept. 26. She was confirmed on Oct. 26, and sworn in on the following day, officially commencing her duties.
Amy Coney Barrett studied law at Notre Dame Law School, and later went on to become a professor at that same university. Moreover, Barrett also served as a clerk to Supreme Court Justice Antonin Scalia from 1998 to 1999, meaning she provided direct assistance and counsel when making legal decisions, according to the Indiana University.
"[Barrett's] legal background, education and experience are pretty typical. The only thing that she's a little inexperienced in is being a judge because she's only been one for the past four years. However, being a judge is not a requirement to be nominated for the Supreme Court," government teacher John Carmichael said.
While Barrett's eligibility for this position isn't controversial, the timing of her nomination is. In 2016, Senate Majority Leader Mitch McConnell blocked former President Barack Obama's Supreme Court nominee, Merrick Garland, arguing that the timing of it was too close to the election. Obama's nomination came just over seven months before the election. In contrast, President Trump's nomination came two months before the election, but this time McConnell agreed to hold confirmation hearings.
"In 2016 Democrats felt that they were entitled to appoint that seat, and they weren't allowed to. So now that this new confirmation happened, many feel that Mitch McConnell's actions were politically inclined," Carmichael said.
More controversy lies with the ideas that Barrett would bring to the Supreme Court. Some don't agree with her values, but this will always be the case with any nominee or candidate for a government position. Opposers of Barrett argue that they're afraid that her religion will play too big of a role in her decisions, as she has described herself as a strong Catholic.
"I don't believe she is able to separate church from the state, which is a huge problem because your religious views should not affect the lives of people, especially if your job is to interpret the Constitution," junior Sathvika Kasarla said.
However, there are others who believe that she is a great choice for the position of Supreme Court Associate Justice. Ohio Right to Life, a nonprofit based in Columbus, OH, expressed their excitement about this confirmation.
"We not only believe that [Amy Coney Barrett] is extremely qualified for this position, but also that she is going to interpret the law very astutely through her grace, wisdom and strong mind," director of communications Allie Frazier said.
Barrett's confirmation brings in another judge with ideals that are in line with President Trump's, one of which is being against abortion. Roe v. Wade, a monumental case which declared it was unconstitutional for the government to place restrictions on abortions during the first trimester, is a case which many believe may be overturned as a result of this confirmation.
"I am personally pro-choice, which means I believe that women should have the option to legally and safely go through the process of abortion if needed, so I would not like Roe V. Wade overturned," Kasarla said.
There are several upcoming Supreme Court cases that could possibly result in the overturning of Roe v. Wade, something some Americans, including Ohio Right to Life, would like to see.
"We as an organization believe that abortion is a human rights violation, and that it should not be considered healthcare. I think the fact that the Supreme Court now has a pro-life majority demonstrates that America is now past the need for Roe v. Wade," Frazier said.