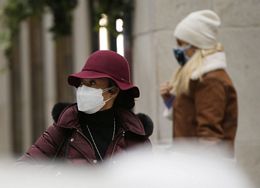 permission to print image: Gale
Last year's birthdays were the highlight of probably everyone's lives. It's one day a year where you can celebrate yourself. You could throw a party with however many people you desire. The gifts you get for your birthday are the best part of the day, other than being with your friends, and all the amazing food you get to choose to go specifically with your taste. Although, starting in March of this year, everything changed.
Starting in March, the biggest change started. There was no more running around Target for fun, no group sleepovers, no going out to eat and my personal least favorite, no birthday parties. COVID-19 has caused most Americans to self-isolate with the people they live with to keep the virus from spreading. This was probably the worst part about this year because it was the most unpredictable. So many questions went unanswered. The stay-at-home order lasted until about the end of May. By this time most students were finishing school completely online.
Birthdays this year were especially hectic. You couldn't invite all family members because you don't want them getting sick, you can't have too many friends because you don't want them to spread the virus, and presents were nerve wracking because you don't know who last touched them last. It's different in every situation but for the most part it's all the same. Staying six feet apart might be the most difficult. Seeing the people you love and cherish for the first time in a long while makes you eager to give them a hug. But now, not even a handshake would be acceptable. If you do shake hands, make sure to apply hand sanitizer right after.
For my birthday, me and four of my friends went to Hocking Hills with my mom and stayed in a cabin for a few days. I was lucky enough to have a birthday in late June so by then the cases were going down, stores were opening back up, you could go in most places as long as you have a mask on, and the stay-at-home order was no longer a thing. Although planning get-togethers during COVID are really difficult, it's important that you maintain a routine. Routine is what keeps people happy and up to date on everything. I know how sad it would make me if I wasn't able to see my friends on my birthday but luckily there are some safe ways to do it.
You can maintain a COVID free hangout by doing the following things:
Keep six feet of distance between each person (unless they live together)
Wear a mask
Wash hands or apply hand sanitizer frequently
Clean up after yourself
Cover coughs and sneezes
Maybe even quarantine yourself for a while before or after the "party"