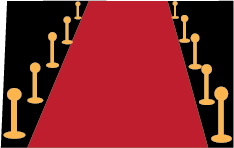 The Met Gala: a unique event where celebrities come together dressed in a particular theme to be seen and socialize. With some celebrities coming in bland outfits that could be seen anywhere, and some dressed in wild outfits that look straight out of the Capitol from "The Hunger Games", the themes and execution can be very hit or miss.
The Met Gala was first established in 1948 and is a fundraising event for the Metropolitan Museum of Art's Costume Institute held by Anna Wintour. Now, it's become a spectacle to judge celebrities' outfits.
The Met Gala takes place on the first Monday in May each year. This year's Met Gala had the theme of "Karl Lagerfeld: A Line of Beauty", and was one of the most boring Met Gala's yet, with a lack in interesting celebrity appearances and overall plain or just random looks.
Here are the top five best Met Gala themes that had the majority of celebrities hitting the mark:
5. "In America: An Anthology of Fashion" (2022)
Last year's theme sounded a little worrisome at first, but there were quite a few jaw-dropping outfits that made it worth watching. The dress code of Gilded Glamour helped guide the outfits to success. The most notable outfit was Blake Lively's copper dress that transformed into a green dress inspired by the Statue of Liberty. Other great outfits included Billie Eilish's corset dress, Lenny Kravitz's leather and lace attire that stepped away from men's typical bland suit, and Cardi B dressed fully in gold. This theme had some great outfits, but could have had more.
4. "China: Through the Looking Glass" (2015)
This Met Gala theme was a challenging one, with it being essential that celebrities be careful to step on the side of appreciation, and not cultural appropriation, with their attire. Being sensitive to culture was essential for celebrities attending the Met Gala this year. Most celebrities nailed it and showed up in some of the most stunning outfits. Rihanna's long yellow gown, Beyoncé's beaded sheer dress, and Zendaya's asymmetrical red dress were all statements on the carpet. This theme showed some truly beautiful outfits that left people's jaws on the floor.
3. "Manus X Machina: Fashion in an Age of Technology" (2016)
This technology inspired theme brought some of the most intricate outfits on the carpet. With standouts such as Zayn Malik with robotic arms, Taylor Swift's silver dress with chopped and bleached hair, Nicole Kidman in a star and moon beaded gown with a cape, this Met Gala theme saw outfits that were so unique to the theme. There were some celebrities that missed the mark, but the majority were spot-on with the theme. All of the futuristic looks were so fun to look at.
2. "Camp: Notes on Fashion" (2019)
This theme is honestly so high up on the list due to the crazy outfits and chaos surrounding everyone's lack of understanding on what camp even meant. In simple terms, camp is over the top and exaggerated, or even when something is so ugly that it's good. Camp brought out some of the most extra outfits seen, and even had the men dressed in more than just boring black and white suits. Billy Porter's extravagant gold attire, Jared Ledo dressed holding his own head, and Harry Styles' sheer attire all elevated the standard of what men wear on the carpet. Zendaya's light-up Cinderella outfit, Katy Perry dressed as a chandelier, and Kendall and Kylie Jenner's feather dresses were some of the most talked about outfits of the night. Overall, camp was such a fun theme that had viewers drawn to all of the outlandish outfits.
1. "Heavenly Bodies: Fashion and the Catholic Imagination" (2018)
The best Met Gala theme by far that will honestly be difficult to top. This theme brought out so many stunning outfits that are still discussed today. This theme was easy to understand, which led to perfect execution and had everyone looking angelic — some quite literally dressed as angels. Some of the most show-stopping outfits of the night included Blake Lively in a gorgeous gold and dark red Atelier Versace dress, Rihanna's Pope-inspired ensemble, and Ariana Grande's beautiful art dress. This theme was truly gorgeous and extravagant. Everyone looked heavenly and the execution of the theme was also amazingly done, making it the best Met Gala theme to date.