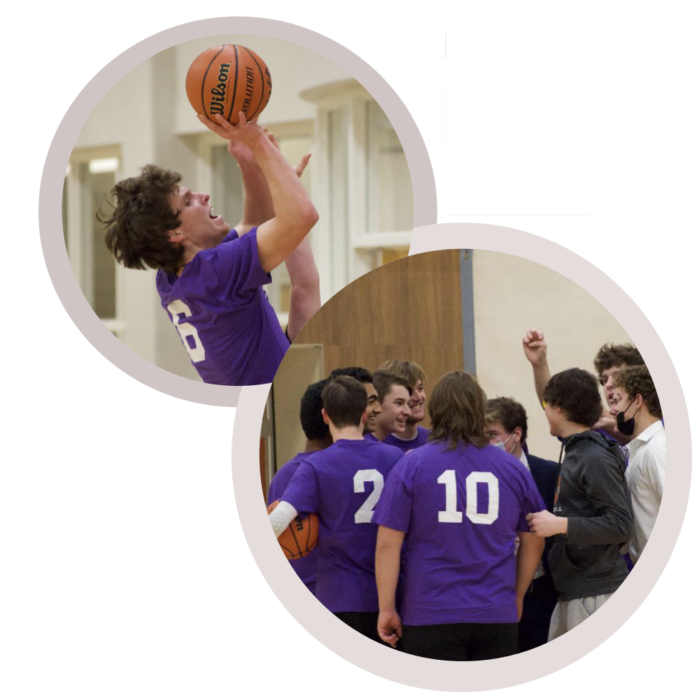 design: DJ Pelles
Photos: Luke Border
The gymnasium was filled with students and parents heavy with the heat of the prolonged Monday night game. Teams from schools across central Ohio are all ready to face off every week in one building.
Recreational basketball, also commonly referred to as 'rec ball' was a basketball league through the Westerville Community Center. Middle and high school students were able to form their own teams and compete in a bracket style tournament.
"Rec ball was a great opportunity to spend time with my friends while also enjoying basketball and competing in tournaments," Coach of team Hairline Airlines senior Blaine Simonds said.
Hairline Airlines was a team established in 2018 and the team continued to play every year since in hopes of winning the playoffs championship. The members of Hairline Airlines were seniors Sammy Hoyt, Pavan Inaganti, Eric Kiekeben, Max Longstreth, Sean McHenry, Ty Miller, Ishan Naik, Tate Scholvin, Cam Shinker, junior Luke Woolard and they were coached by Simonds and senior Jack Helmer.
"I joined Hairline Airlines because I was friends with everyone on the team and playing on Monday nights was a good escape. The pre-game energy was unmatched and it was an amazing opportunity to compete," McHenry said.
The high school basketball teams were separated into the East and West divisions and there was a total of 12 teams across both divisions. They first competed against teams from their own division and the two winners from each division played one another in the finals.
"We hoped to win the championship, but we fell short in the second round and lost 31-21 to team Jackson Mahomes. The boys played well and we ended the season with a 3-3 record," Simonds said.
Crazy Chameleons was another team filled with players from the high school who all enjoyed playing basketball and didn't want to play for the school team. The members of Crazy Chameleons were seniors Jack Behre, Brodie Dial, Abraham Mousse, Maxwell Reidelbach, Sebastian Toot, junior Andre Robinson and Justin Spade, a senior at Westerville North.
"I wanted to get good at basketball again after not playing for a while since I played football and also just to have a good time in a low stress environment. This was a cool way to improve my skills with little pressure," Reidelbach said.
The team finished with a season record of 2-4 and lost in the first round of the playoffs to the Dirty Cheetahs 24-22.
"Me and my friends wanted to play rec because we've all played in the past and we just got some people together, formed a team and played. It was a really fun few weeks and my favorite part was warming up before the games because we had speakers and fun music," team Dababies player and junior Sawyer Brisson said.
The players for team Dababies were juniors Tyler Ackerman, Brisson, Nolan Cameron, Kees Condon, Zach McDowell and Tyler Stearns. Their team lost to BDG 37-32 and they ended the season with a record of 5-1.
"I think our team could've gone to the semifinals but Tyler and I couldn't play because we had lacrosse and they just couldn't get it done with only five players left on the roster. The team tried their best but things happened," Brisson said.
The teams also created Instagram pages with their own brandings and logos and posted during game nights with frequent score updates. The pages interacted with each other in a humorous and competitive outlet.
"The Hairline Airline Instagram feed was a fun page. Sammy did well with the edits and I think we definitely had the best page out of all the rec teams," McHenry said.
The season ended on March 7 with team Flint Tropics taking the championship for the junior-senior league with a 47-45 final score against team Big Body Ballers.
"Our win was a great team effort, we pulled it all together in the playoffs and were able to win three overtime games in a row. Down the stretch, we gelled together well and everyone played their part to ultimately win the championship. It was a great feeling to be the champion and I'll be telling my children's children about it," Flint Tropics player and senior Jeremy Wicks said.