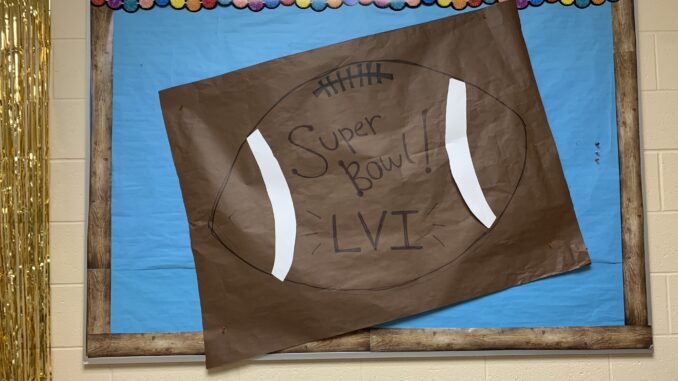 photo credit: Emma Clute
The 2022 NFL Super Bowl is going to be one of the craziest Super Bowls in the history of the NFL. The Cincinnati Bengals and the Los Angeles Rams will duke it out in the Super Bowl LVI on Sunday, Feb. 13 at 6:30 p.m.
The Bengals were coming off a 4-11 season, and their rookie franchise quarterback Joe Burrow suffered a torn ACL towards the end of that season. But having that terrible record provided them with the sixth overall pick in the 2021 NFL draft. That pick turned into Burrow's favorite target, Ja'marr Chase.
Burrow and Chase played together at Louisiana State University, and it took no time for that chemistry to carry over to the Bengals. This season, Chase caught 13 passing touchdowns and had 1455 receiving yards, according to Pro-Football-Reference. Impressive year for a rookie receiver. That impressive rookie year led him to the pro bowl.
The Bengals was not a team anybody expected to be a contender. They went into the season with the third worst odds in the league to win the Super Bowl (+15000 odds), according to Pro-Football-Reference. But the Bengals surprised everybody.
The Bengals finished the 2022 NFL season with a 10-7 record. They went on to win their wildcard game against the Las Vegas Raiders 26-19, and they beat the Tennessee Titans 19-16. However, their biggest win was an overtime victory against the Kansas City Chiefs, where they won 27-24.
However, the Rams went into the season as a team that people thought could win the Super Bowl. After trading away their starting quarterback Jarad Goff for their new starting quarterback for Matthew Stafford, they looked like they could be contenders.
Stafford is a great quarterback who has always been in a terrible situation. The last place an NFL player wants to be is Detroit-based on the franchise history, and Stafford spent 12 years there. But after he finally requested to leave Detroit via trade, the Rams quickly jumped to get him.
The Rams are not new to the Super Bowl, as they were just there three years ago. But this time, they are a lot better. They have two of the best defensive players in the league with Aaron Donald and Jalen Ramsey, and their new quarterback has the most consistent receiver in the league this year, Cooper Kupp, to throw to.
This year's playoffs have been one of the best playoff series in NFL history, and this Super Bowl has the potential to be one of the greatest of all time. Maybe the Bengals will make history with their first Super Bowl in franchise history, or can the Rams close out a great season with a Super Bowl victory?