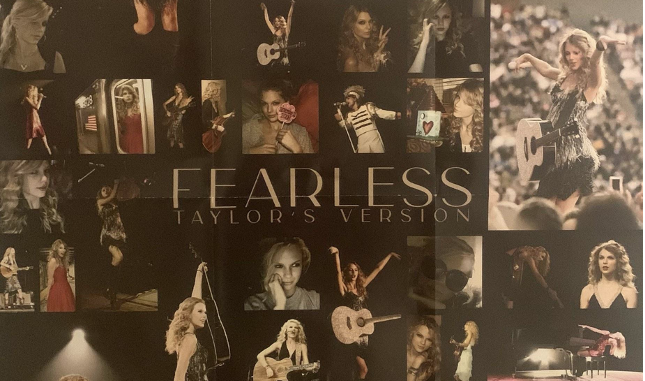 photo credit: Emma Barnhart
Musician Taylor Swift has become well-known for her ability to create timeless hits at such a young age. However, what most people don't know is how those songs were then stripped away from her.
Swift's albums were owned by Big Machine Records, which was acquired by record executive Scooter Braun's Ithaca Holdings holding company where Swift's master rights to her songs were taken.
The first six albums by Swift are owned by Big Machine Records, according to Time Magazine.
"Since her music was controlled by Scooter Braun, she was never fully allowed to express her feelings in her songs," Swift fan and sophomore Natalie Tipp said.
Swift recently took initiative by first releasing "Fearless (Taylor's Version)" on April 9, 2021, and "Red (Taylor's Version)" on Nov. 12, to finally own her work and produce songs the way she wanted.
"She now made all of her songs on her own and they have less of a filter so her songs are more original," Swift fan and sophomore Sofie Terlesky said.
Braun is currently getting paid when someone streams the old version of the albums, according to Time.
Now with her re-recordings, "She can create music while at the same time getting the money she deserves instead of it going to someone else," Tipp said.
Swift is now capable of producing her music the way she originally intended for them to be produced.
"She has more freedom and control of her own songs rather than giving the control to a record deal," Terlesky said.
Swift said the most evident reason why an artist should own their music is because they are the only people who really understand that work.
"She added new lyrics in some songs, giving it her personal touch, which makes the songs have a deeper meaning," Tipp said.
Swift recently released a No. 1 hit "All Too Well (10 Minute Version) (Taylor's Version)", which showed more shade to her ex-Jake Gyllenhaal than the original.
"Her songs aren't as restrained as they used to be," Terlesky said. "They are more aggressive so we get to see more of her emotions."
Her voice has matured as the years have gone by, and slight details in the production have changed as well, according to Time.
"Along with how mature her voice is now, she added new songs that makes the album even better," Tipp said.
Swift's re-recordings are gaining more popularity because of how unhinged her emotions are now in her lyrics.
"She told more of the stories she wrote about, so people who listened to them understood what actually happened," Terlesky said.
The real difference between Swift's new and old work is the passion that was put into it, and how hard she worked to get to this point, according to Time.
"She showed the world that hard work pays off, and that you should benefit from what you deserve," Tipp said.
Swift inspires other artists with her work and her intentions to take action to own her work.
"She gained her own freedom and didn't give her power to a record deal which could inspire a lot of other people to do the same," Terlesky said.