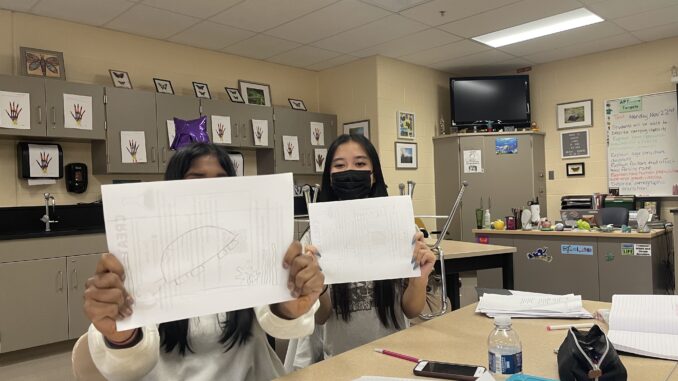 photo credit: Aryan Bommena
By 2050, the plastic in the oceans will outweigh fish in the oceans, according to Conservation.org. The high schools environmental club is working to raise awareness for issues like these.
The club has numerous goals they want to achieve this school year and they have already started working to meet them.
"We want to raise awareness for environmental issues; we are participating in the Columbus Zoo's eco-summit, where groups from around the state meet and create resolutions to try and win a $2500 grant. We would use the grant money to build EV car charging stations around the Olentangy district," junior and Environmental Club secretary Alex Johnson said.
The environmental club currently has over forty members composed of all four grade levels. The club meets once a month in AP Environmental Science teacher Jessica Timmons' room.
"We hold monthly meetings, with fun activities such as making paper or making compost in a bottle, in order to actively educate individuals on the importance of sustainability," junior and Vice President of Environmental Club Courtney Van said.
The environmental club is currently collecting bottle caps in order to build a mosaic to raise awareness for the club.
"Students can bring in any bottle caps they have to the next club meeting. We will be painting them and creating a mosaic," Van said. Students who enjoy participating in fun activities and care about the environment can be sure to go to the next environmental club meeting.