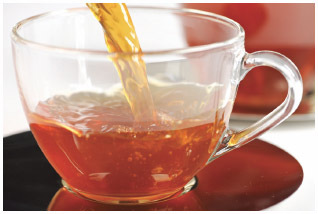 permission to print image: Gale
People across the country have been struggling with finding the perfect everyday drink. Few can match the affordability and flavor of the AriZona Iced Tea series. For (usually) only 1 dollar, you can get 24 oz of a refreshing and delicious drink. However, not all AriZona's are created equal, so I'm going to show you the best.

6: Mucho Mango
Not every drink can be a star, and at #6 we have Mucho Mango. While still being a great drink, I don't love the mango flavor in tea. In my opinion, there are better options for citrus type flavors in AriZona.

5: Lemon Flavor
Now if you want citrus, this is an AriZona I endorse. It isn't quite the Arnold Palmer 50/50 ratio. If you like tea more than you like lemonade, I would recommend this flavor.

4: Arnold Palmer
This is the classic Arizona flavor. Half lemonade, half iced tea, and 100% fantastic. Named after a legendary golfer, this flavor is deserving of its fame.

3: Green Tea
Whenever I feel ill, I grab myself an AriZona green tea. The fantastic design of the can lifts my spirits even before I take a drink. The smooth flavor only enhances the joy I get from the drink. So this flavor takes the #3 spot.

2: Strawberry Tea
Now, I may be biased about this one. I am a huge fan of strawberry flavors, and have been since I was young. So it makes since that the classic half and half Arnold Palmer with the addition of my favorite fruity flavor would be such a hit with me. The 3 flavors come together for a near perfect drink in every sip.

1: Golden Bear
As I said, I love strawberry. I don't know what it is about this Golden Bear strawberry lemonade drink, but it hits different from almost everything else on this list. Named after another golfing legend, Jack Nicklaus, this drink should be the most popular in America. Perfect summer taste.
All in all, I love AriZona. All of their drinks are great, and even more importantly, well priced. Everyone should try an AriZona at least once in their life.