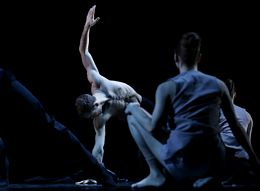 permission to print image: Gale
The spring musical, "Working", is to be performed in mid-April by Orangelight Productions, the high school's drama organization. The adaptation of the award-winning musical focuses on the working jobs often taken for granted.
The 2012 revised version of "Working" is a musical exploration of 26 people from all walks of life. The purpose of the show is to show how core strengths transcend professions and reveal the key aspects of humanity, regardless of the work.
"When the students start practicing, we start with a readthrough, and follow that with working on songs, both group and solos. We also work on choreography and character movement for each song. Lastly, we work on character for the monologues," drama director and theater teacher Cathy Swain-Abrams said.
Prior to spring break, students practiced every Monday through Thursday from 2:35 p.m. to 6 p.m. Practice times changed to 2:35 p.m. to 9 p.m. after spring break in order to get in more practice before the performance. Performers practice lines, emotional display and choreography while the tech sector mics the actors and manages lighting, set construction and audio.
"For the musical, we run through songs, dances, memorization, characterization, costumes, make up and more. The musical is full of fun music and it shows the realness of these jobs. It is personal for most people," sophomore drama member and Orange thespian Sam Sawyer said.
The drama organization is setting up to perform "Working" on April 16 and 17 at 7 p.m. and April 18 at 2 p.m. Those interested in watching can watch in person in the auditorium or watch online.
"It is an inexpensive evening of great entertainment. The music is great, the actors are fantastic and the sets look amazing. It is a tribute of beautiful music honoring the real people who are often overlooked in our society–the workers," Swain-Abrams said.