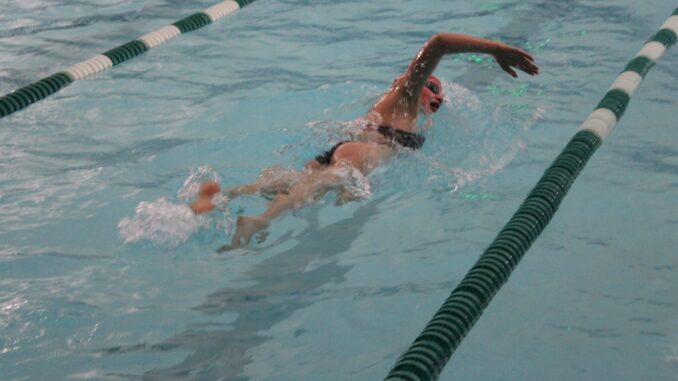 photo credit: Abby Robinson
The Lady Pioneers fought hard but ended with a loss after battling through many events against the Olentangy Braves.
Junior Alex Knodel was the only double winner for the Lady Pioneers with her wins in the 200 Individual Medley (2:31.79) and the 100 Breaststroke (1:18.16). Knodel has been a very strong swimmer upfront for the Pioneers this season and continues to greatly contribute to the team's points.
Single winners for the Pioneers include senior Emma Logan in the 50 Freestyle (28.99) who also battled sophomore teammate Ava Row (30.54) for third place. Senior Brooke Farren also placed first in the 100 fly (1:09.78), her signature event.
Despite losing the 200 Medley and 200 Freestyle relays, the relay consisting of Farren, Logan, Row and Knodel were able to come back and win the 400 Freestyle relay with a time of 4:20.27.
The Orange girls scored 83 points while the Olentangy girls scored 85.
The Orange boys team swam fast and worked together to dominate the Olentangy Braves.
Single winners include senior Tannor Lambert in the 100 Fly (1:10.86), senior Graham Weidenhamer in the 100 Breastroke (1:13.62) and sophomore Tuckor Lambert in the 100 Backstroke (1:10.10).
The Orange boys 200 Medlay relay was disqualified, but they came back to win both the 200 Freestyle and 400 Freestyle relays to rack up the points.
The Orange boys scored 83 while the Olentangy boys scored 68.