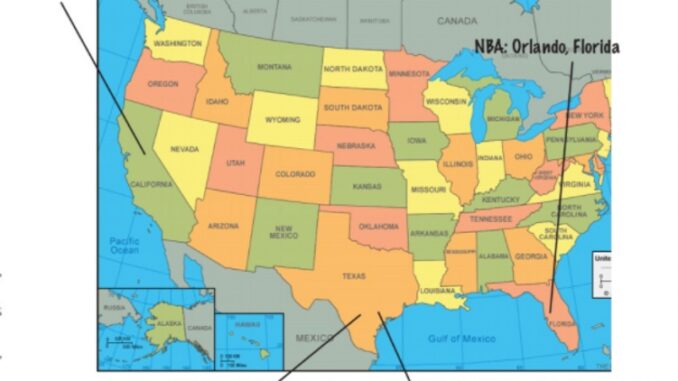 design: Emma Thompson
The global pandemic has had a huge impact on professional sports. Although many sports leagues were unsure if they would be able to return to play without a vaccine, they have found ways to resume or begin their seasons.
While each league found different ways to return, one model prevailed in the early months of the return: the bubble.
In bubbles, prominently used by NBA and WNBA, teams arrive at one set location, are tested regularly, and no one comes in or out.
The absence of fans at games has changed the play of sports, as well as the experience watching them from home.
Lifetime NBA fan senior Chris Kalman noticed the shift in play immediately once basketball returned to play.
"I've watched the NBA since I was a little kid, so seeing the teams play with no fans is definitely weird. I believe it also affects the game itself. When athletes play with 30,000 people cheering in support, I think it gives them an extra boost to perform better," Kalman said.
Other leagues, though, such as the NFL and MLB decided to return more traditionally, traveling to each team's stadium, while regulating the players to quarantine outside of games. This has led to various outbreaks of the virus, almost resulting in stoppage of the season.
The NFL's Tennessee Titans saw football's first outbreak, with 18 positive cases after the third week of the season, and many fans speculate that it can only get worse as the season progresses.
Senior Michael Penka agrees, and is very skeptical that the league can bounce back from these setbacks.
"I do not think the NFL will be able to get through the whole season without major disruption, as we are already seeing with the Titans right now," Penka said.
The MLB also suffered a few outbreaks, leading in a very different season.
During the season, the St. Louis Cardinals had a team-wide outbreak, resulting in them trying to play 53 games in 44 days with 11 doubleheaders.
Ultimately, they decided to have one set location per division for the playoffs only, which so far has yielded no positive cases from California or Texas.
Penka, also a baseball fan, said he favors bubbles for these reasons, although he understands the challenges that come with it.
"I think the bubble is much safer, but a lot harder for leagues to actually do. I'm sure it's very different for the players," Penka said.
After cancelling spring sports last season, the NCAA is making a return to play as well. Senior college football fan Owen Dickson is excited for play, no matter how it looks.
"I believe college football returning is a good thing because with all the crazy stuff happening, football is what is getting me through it, and I'm sure for the players as well," Dickson said.
Some Southern conferences, like the SEC and ACC, are already letting fans back into stadiums in high capacities, without much protection.
Kalman is unsure about college football, is somewhat scared for these players and the possibility of an outbreak.
"I wouldn't be surprised if college athletics takes a turn for the worst. These players are unpaid and quite frankly, unprotected. I have no doubt that most of these players will want to play, but an outbreak is just around the corner due to the widespread sharing of equipment amongst all these college students who are probably going out in their free time," Kalman said.
With the upcoming MLB World Series taking place in Arlington, Texas and NCAA Basketball beginning in a few weeks, sports fans have plenty to look forward to.