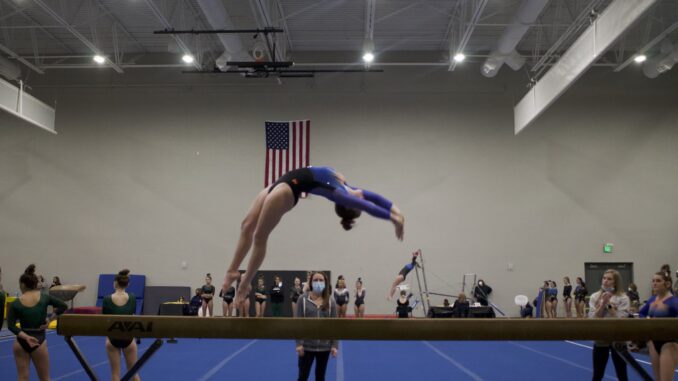 photo credit: Rachel Lehman
The gymnastics team had an unprecedented season this year, breaking its team score record five times. The team score is calculated by adding all the scores of the top four scoring gymnasts to each event.
The team ended its season with its highest score of 138.5 at the district competition at Worthington Kilbourne placing sixth in the district. Additionally, at districts, sophomore Jade Gerard placed in the top 10 for vault, uneven bars, floor exercise and all-around which allowed her to participate in the state competition where she took the runner-up state champion title for uneven bars.
"In my four years of being a coach for gymnastics, this was the first year we've had a gymnast qualify for states," Head Gymnastics Coach Amanda Gaylor said. "I'm really looking forward to getting my returning gymnasts back in the gym and training for next season because there is potential to have another record-breaking season next year."
The gymnastics season started in late fall and it typically trains three days a week at Gym-Xtreme for two hours and do weight training after school on the days it is not at the gym. During their offseason, it has optional summer practices one to three times a week.
"I feel like last year we had more of a rough season. This year, we decided to do weight lifting as a team and I think it made us stronger and helped us with endurance and a lot of us improved a lot because of it," junior Amira Welch said.
The team received six gymnasts this year, most of which were freshman and sophomores resulting in a team of 20 total people. At most competitions, there are six gymnasts who compete in each event so fighting for a spot is very competitive.
"The talent that joined our already hardworking team elevated the dynamic. Some teams run into issues when they have a larger number of people, but our team was close-knit and definitely had a family dynamic," senior and Team Captain Tatum Lather said.
The large majority of the team consisted of seniors who will be graduating this year. However, depending on how many gymnasts return and the number of people who join the team next year, it will give an opportunity for more people to compete in those top six spots.
"I can't wait to see the upcoming people who decide to join our team as well as how well we do compare to this year. I am a little nervous because we will have lost seven seniors, but it will be alright and will just give underclassmen a chance to prove themselves," Welch said.